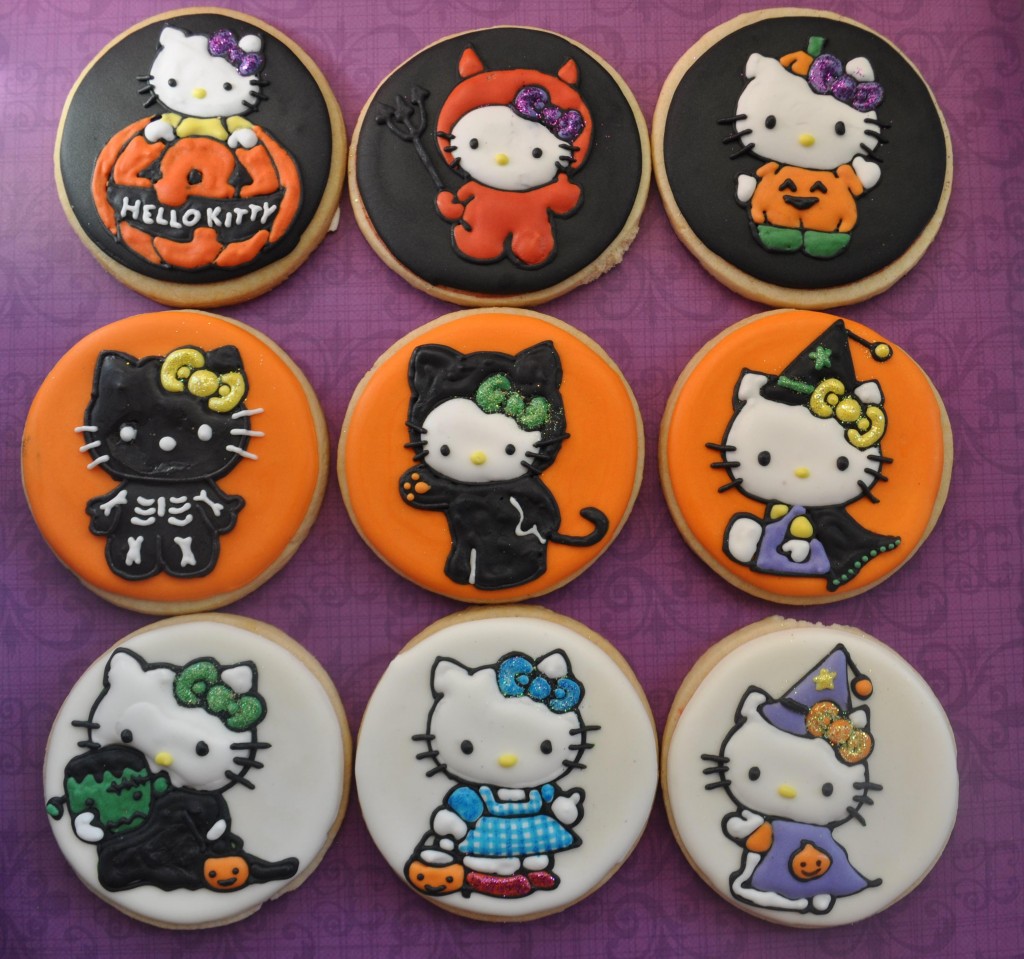 I have sort of been in a cookie slump.  I think it was these cookies, and a few others that did me in last Spring. Maybe with all the fun Holiday decorations in the stores I finally had the motivation to put everything else aside for SEVERAL hours, and do something, just for fun.  For me, I get in this cookie decorating mode where I can block everything out around me… and the best part of this craft is it's disposible, meaning I don't have to stare at the imperfections for weeks to come.  You may be questioning my sanity, but I guess I stopped caring what people think about me a long long time ago.
For instructions, and more pics of these Hello Kitty Halloween Cookies, read on…
Hello Kitty can't decide what to be for Halloween.  It's Sept, 30th, only 1 month left to pull together a costume.
Maybe Dorthy from the Wizard of Oz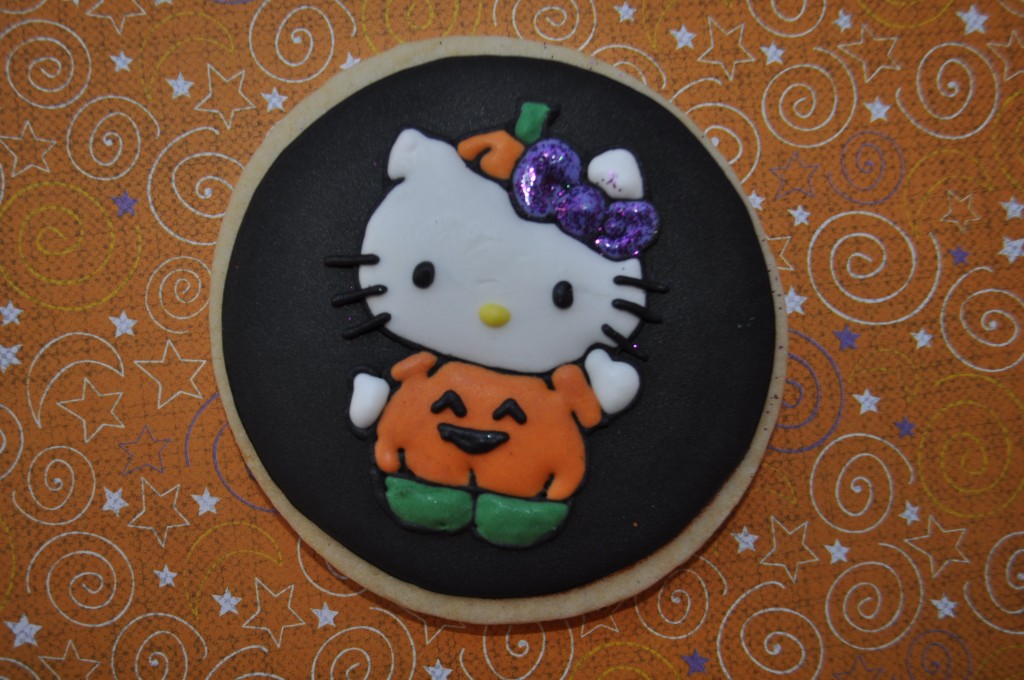 How about a pumpkin?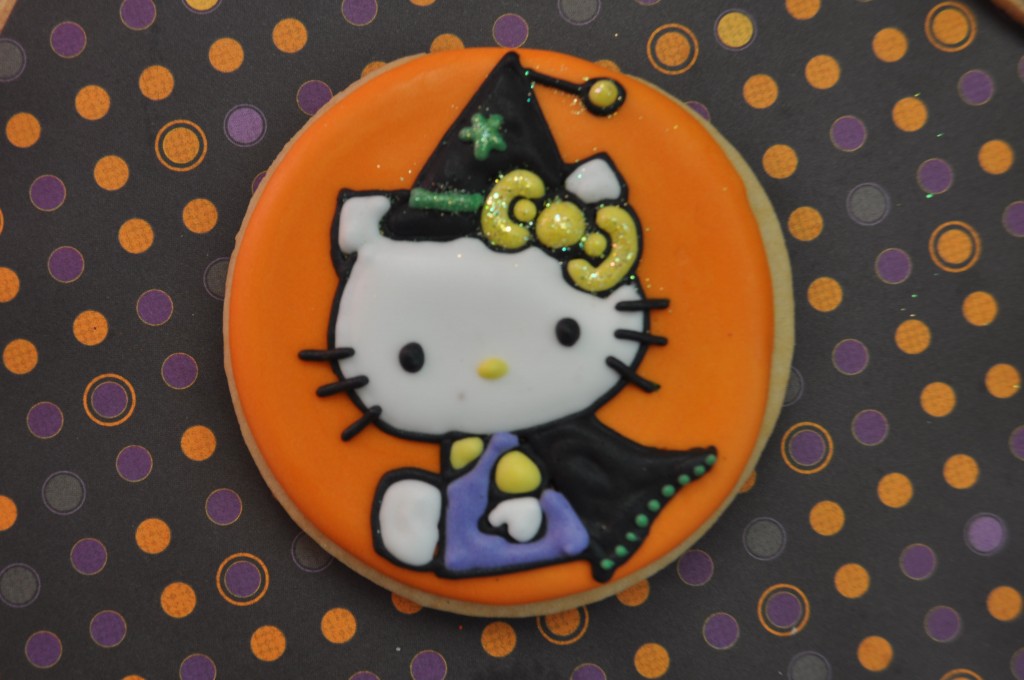 How about a witch?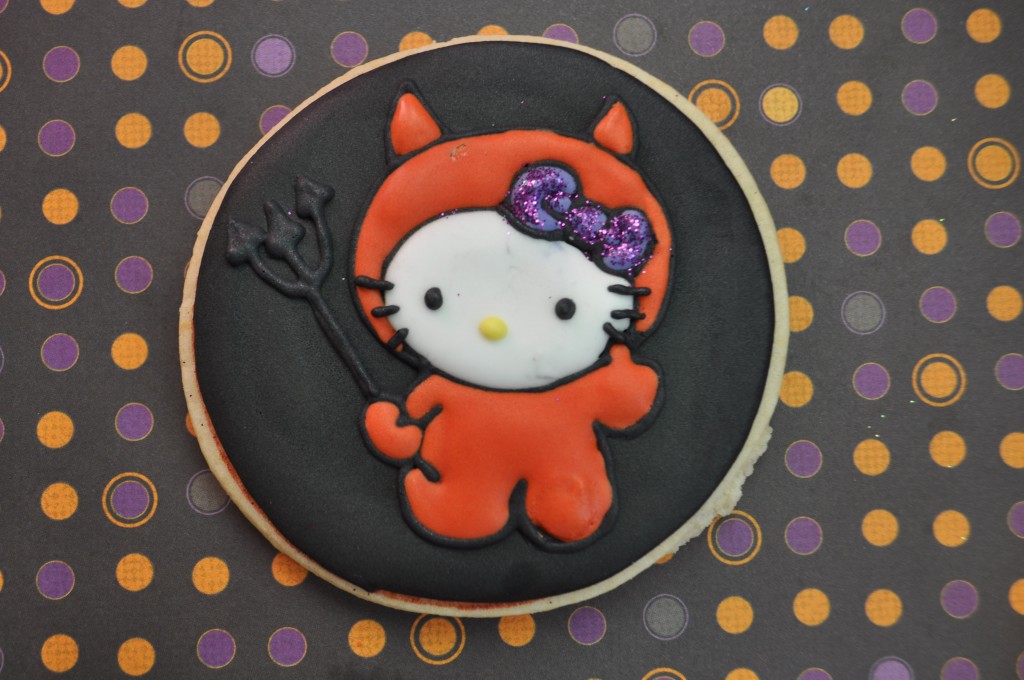 A little demon?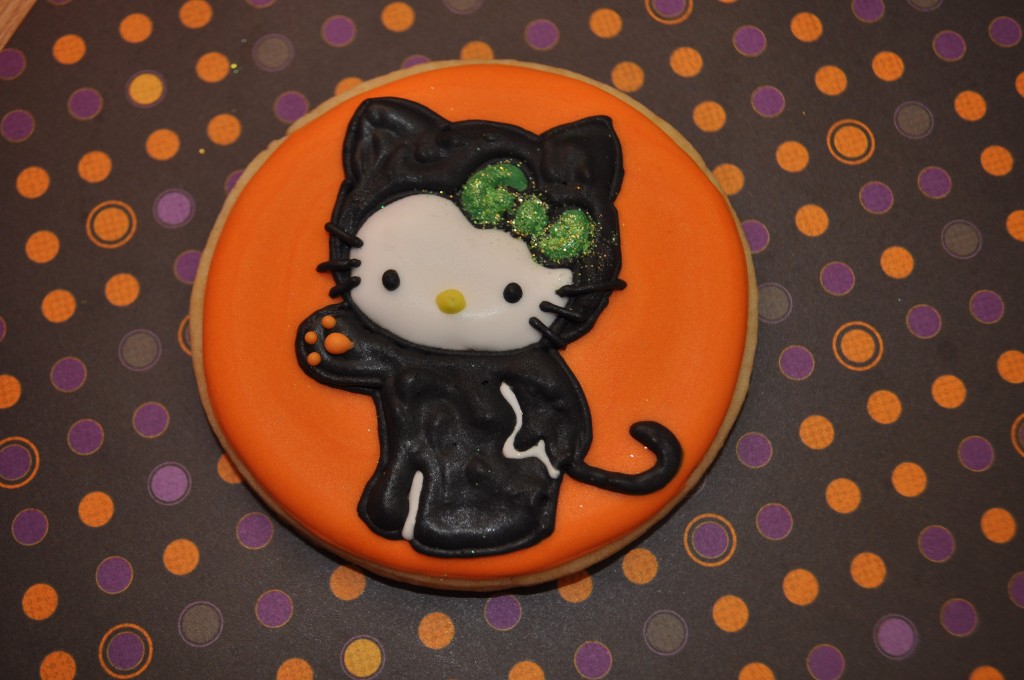 Maybe not a cat, that black icing was so lumpy!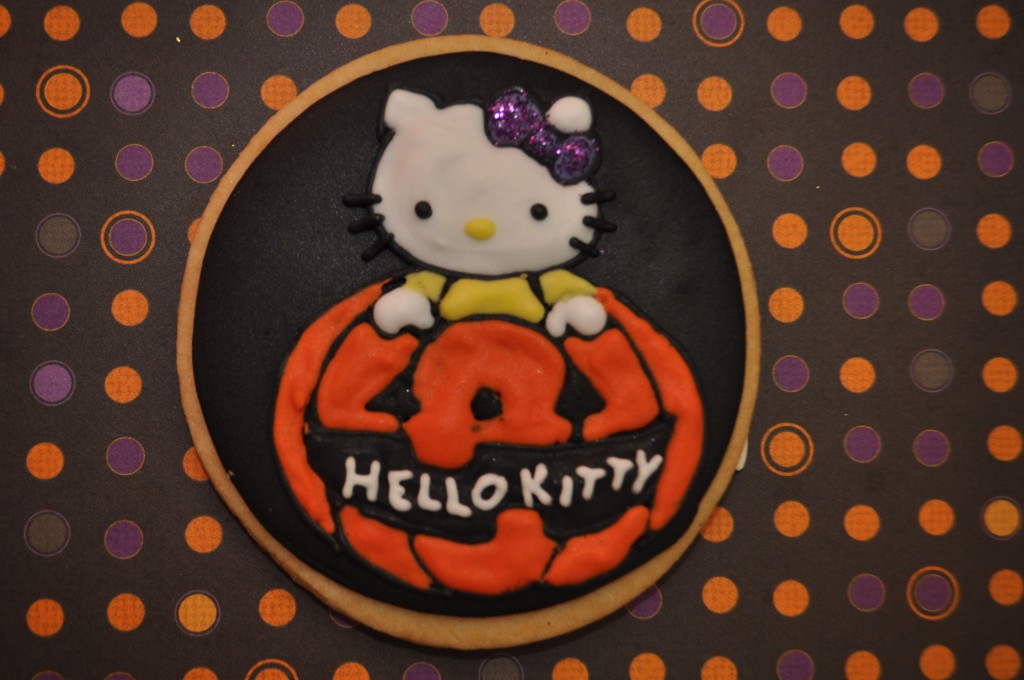 How about jumping inside a big pumpkin?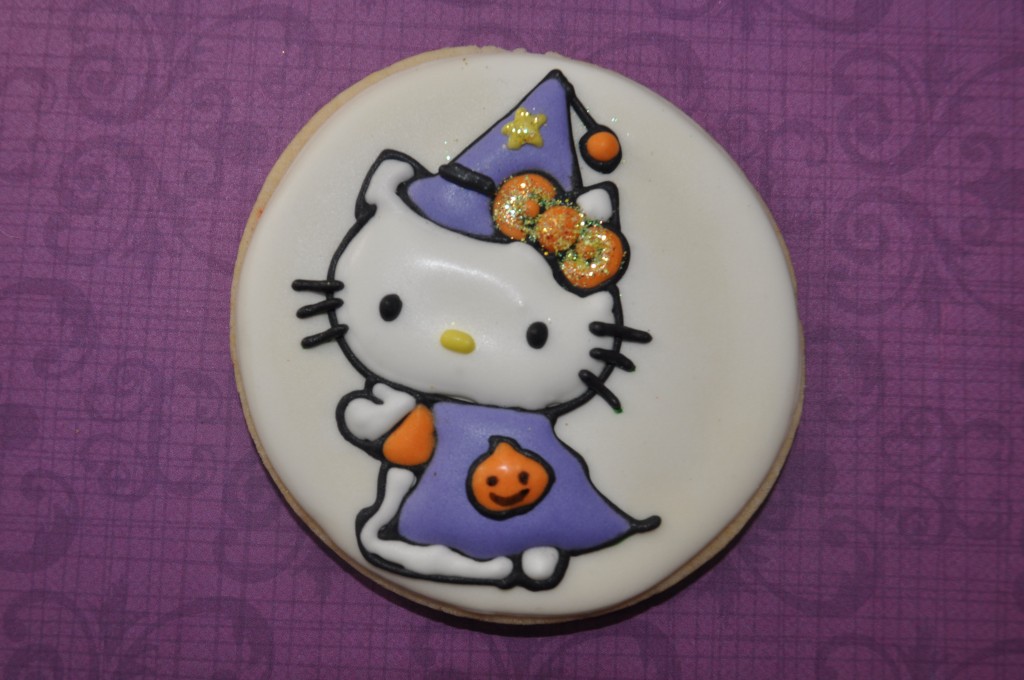 A wizard?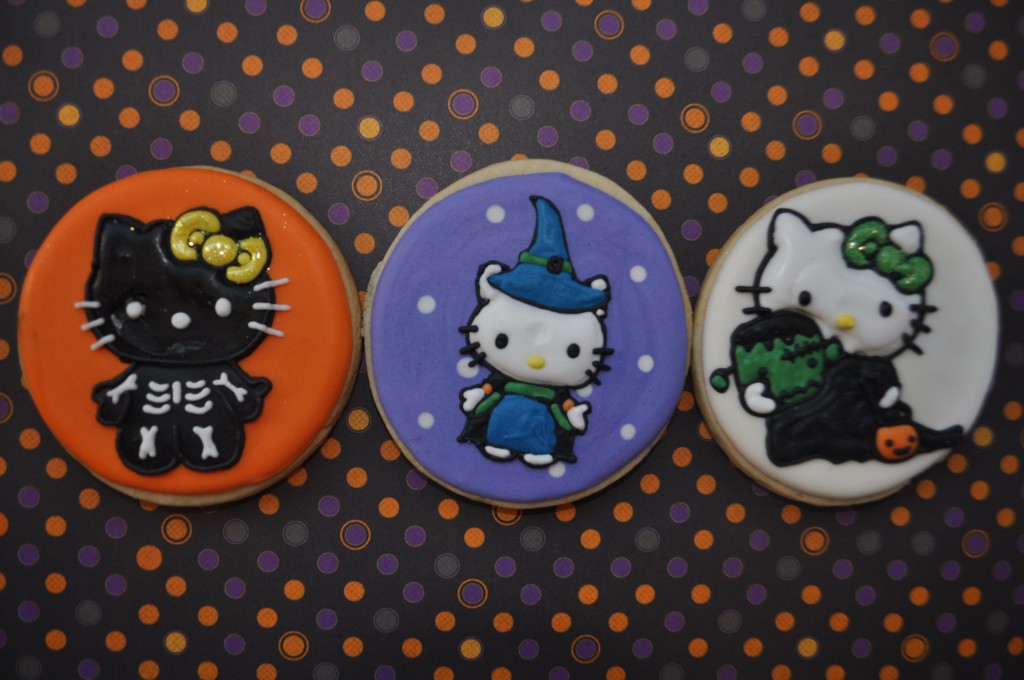 These three will not work, Crater issues!
To learn how to make these cookies, refer to a previous post, where I show in detail how I made the St. Patrick Hello Kitty Cookies.
Basically, make sugar cookie dough (recipe here).  Chill the dough, cut into circles and chill again before baking.
After baking, use your cookie cutter to trace a perfect circle with an edible ink marker.  Outline the cookie with thicker, outline, or piping consistency royal icing.  Recipe Here.  Then flood with thinned royal icing.
Use the kopykake to transfer the Hello Kitty image.  Outline the character in black and then fill, alternating layers as you go.  Let dry overnight and add final details the next day.  I added the disco dust (edible glitter) by painting with corn syrup and carefully adding to that area.
Happy Halloween!