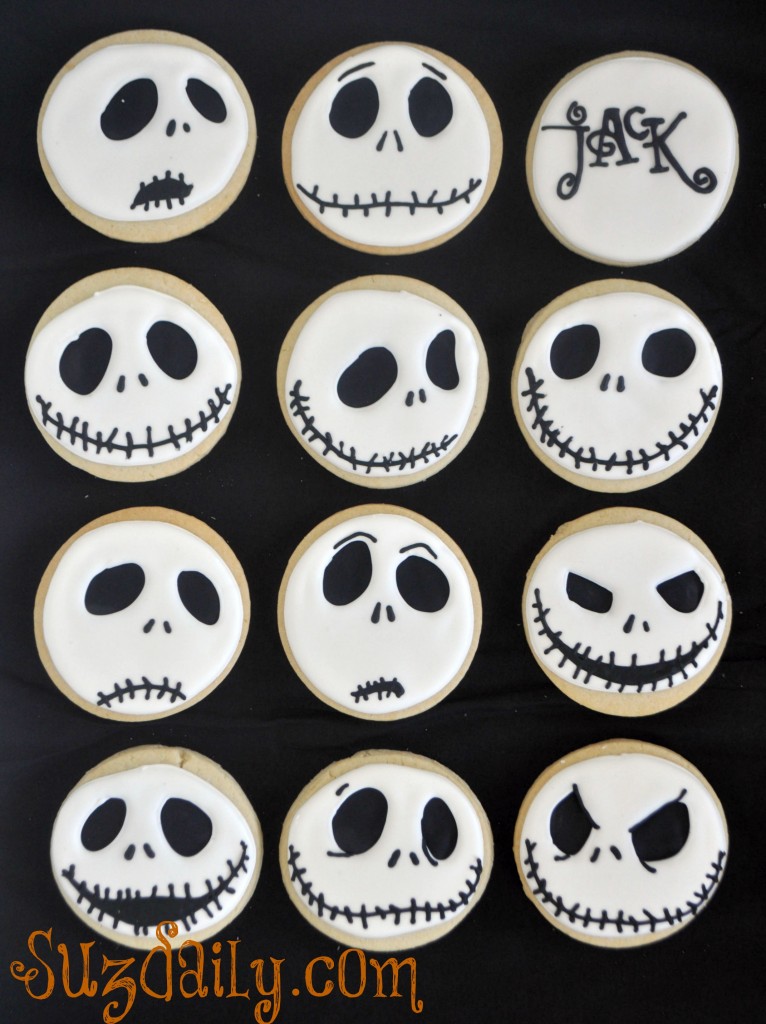 How to make a Jack Skellington Cookie – How to make a Nightmare before Christmas Cookie
I made these for my sisters Cathy's annual Halloween party.  She goes all out for this party each year.  They love the movie "The Nightmare before Christmas," so I made her 5 dozen Jack Skellington cookies to use as favors.
For details on how I made these keep reading…What I used for the Jack Skellington cookies:
Sugar cookie dough.  The recipe I use makes 5 dozen 3 inch round cookies.
Royal icing; white outline, white flood as well as black outline and black flood.
KopyKake for image transfer – or homemade stencils for Jack Skellington's face
I thought about how I would constuct these for days.  I am not a fan of stacking layer upon layer of royal icing especially when I know they are for eating, and not just for show.  At first, I thought I would just put the eyes and mouth on top of a layer of white royal icing; although I worried about how crunchy that top layer of royal icing would be.  With only 18 hours from shipping time, I realized I may not have time for a top layer of black icing to dry, and I realized I would have to do something different for the big Jack Skellington eyes.  Black icing can be especially tricky.  If it is not completely dry it will stick to the cellophane bags.
The idea came from these after I saw some cute pumpkins at one of my favorite websites, sweetsugarbelle.  She made some beautiful Jack 'o lanterns where the black icing was placed behind the orange icing.  I was actually able to simplify what she did with the pumpkins by simply scraping a layer of black icing on the cookies before adding the white icing.
So here we go with the photos.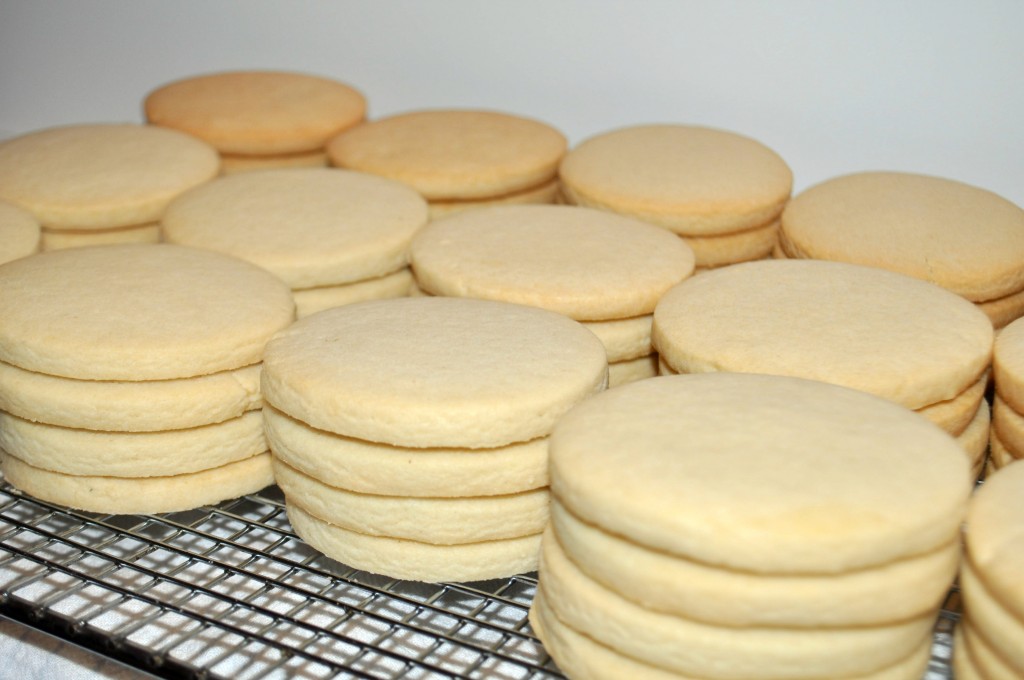 Bake three inch round cookies.  Do not space out and get on Facebook while they are baking.  The last row was in the oven for just a bit too long.  Sorry Cathy, but don't worry the kids will eat it.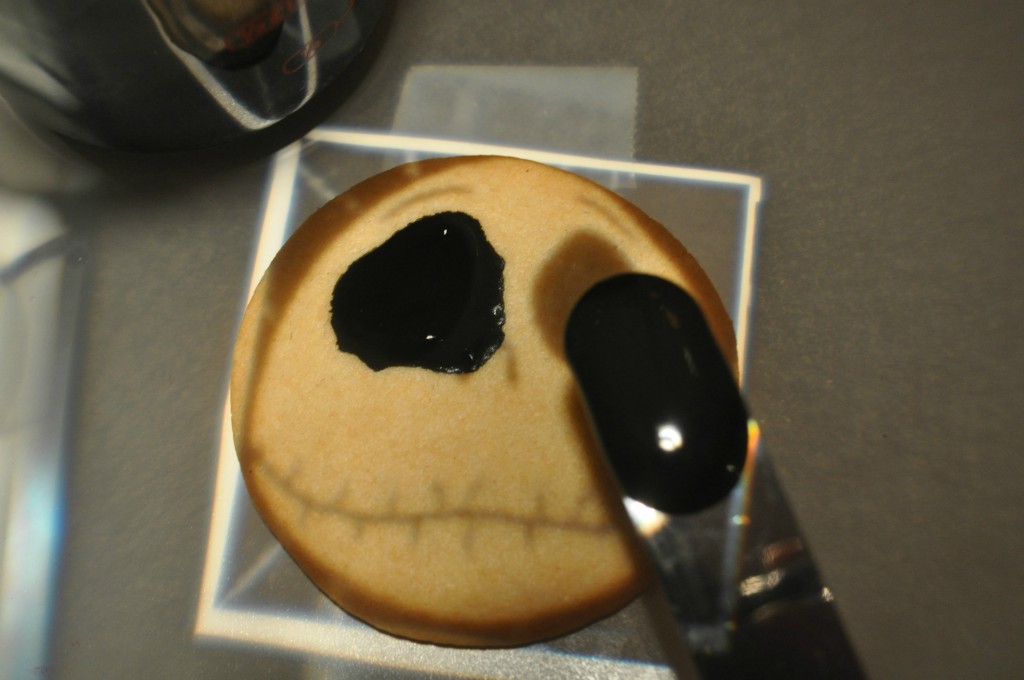 Now the fun part.  Prepare royal icing that is dyed with black.  It is best to do this several days in advance.  Thin to piping consistency, or even a bit thinner so that the bumps smooth out on their own.  I used the KopyKake to help me place the black dye.  Any type of artificial dye grosses me out so I try to use as little as possible.  Without a KopyKake I would make a special stencil; in a manner as shown on sweetsugarbelle's post.  Using a small off-set spatula simply scrape a thick layer of black icing where you want the eyes to go.  Move on the next cookie and give that black icing about 20-30 minutes to set up.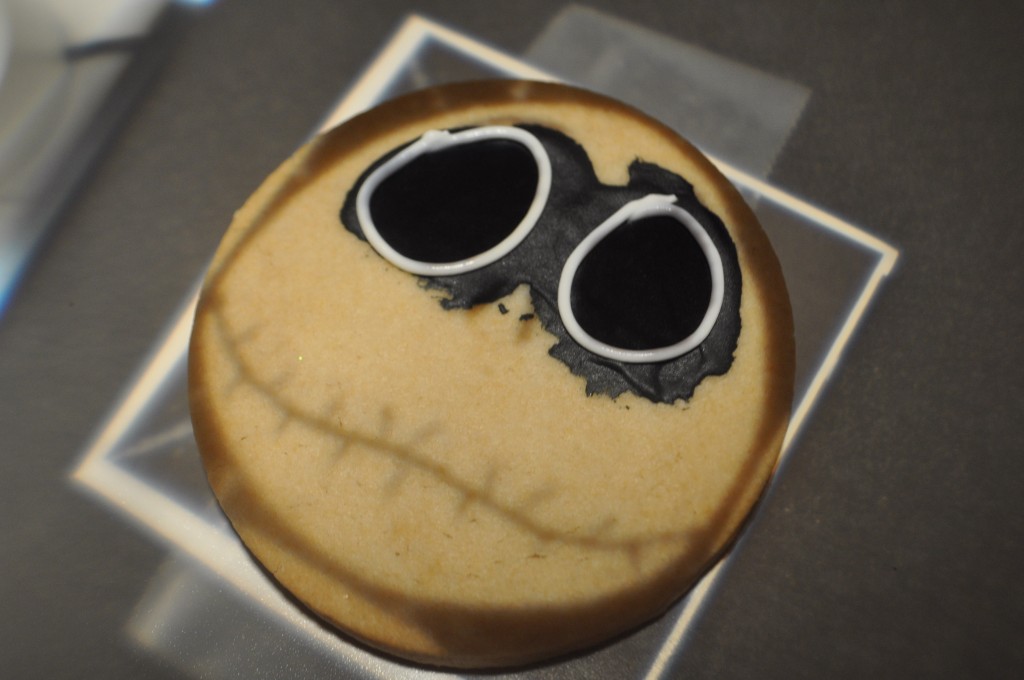 I worked on these faces from about 11pm until 4am.  So funny looking, especially late at night.  Anyhow, once the black layer of icing is dry, use a PME 2.5 or a Wilton size 2 tip fit with white piping icing to outline the eyes.  When using the kopykake it is difficult to see the outline when the icing is very wet.  The light tends to reflect everywhere.  If you are using stencils, you would also want the white icing to be dry.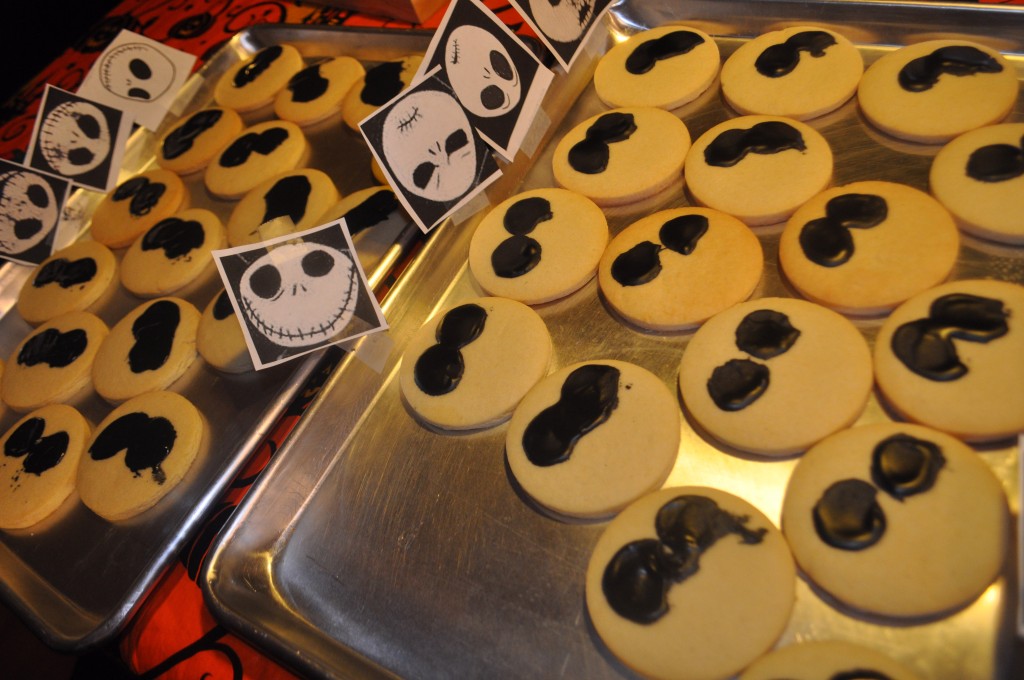 Here is how I kept track of which eyes went with which image.  It looks pretty sloppy, but in the end the black turned out just fine.  I tried to keep the black icing to a minimum.  If it were a soft color I wouldn't worry so much about adding too much icing.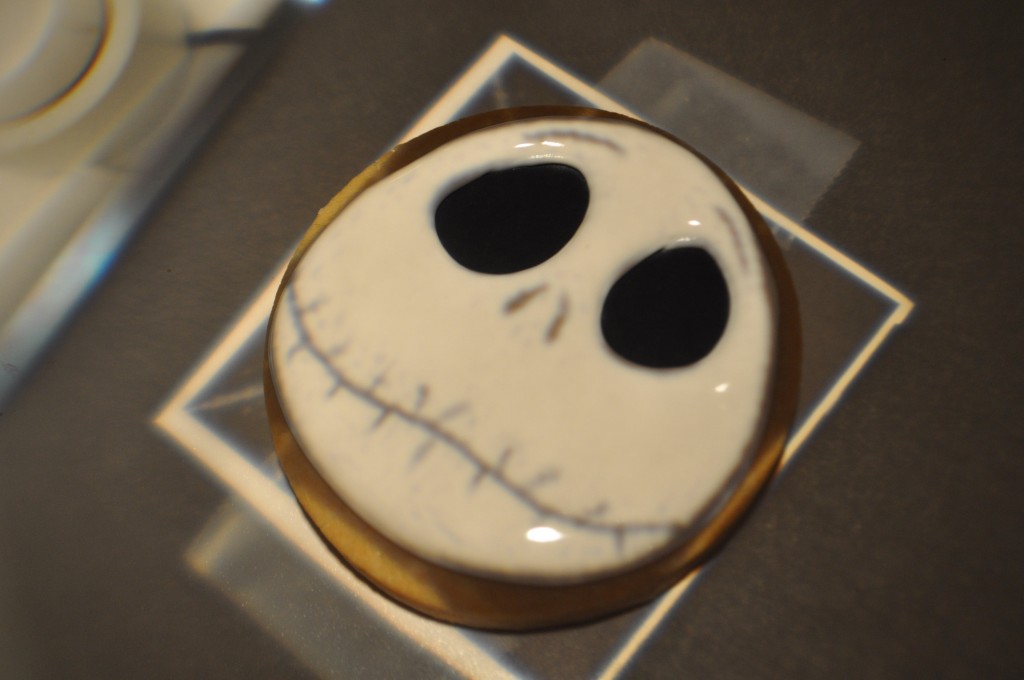 Now outline his head (not shown) and fill in with the white flood (thinned) royal icing.  Make sure the icing is not too thin for this project.  I have found thinner white icing and black accents used in combination is a recipe for disaster.  So now the head is filled in.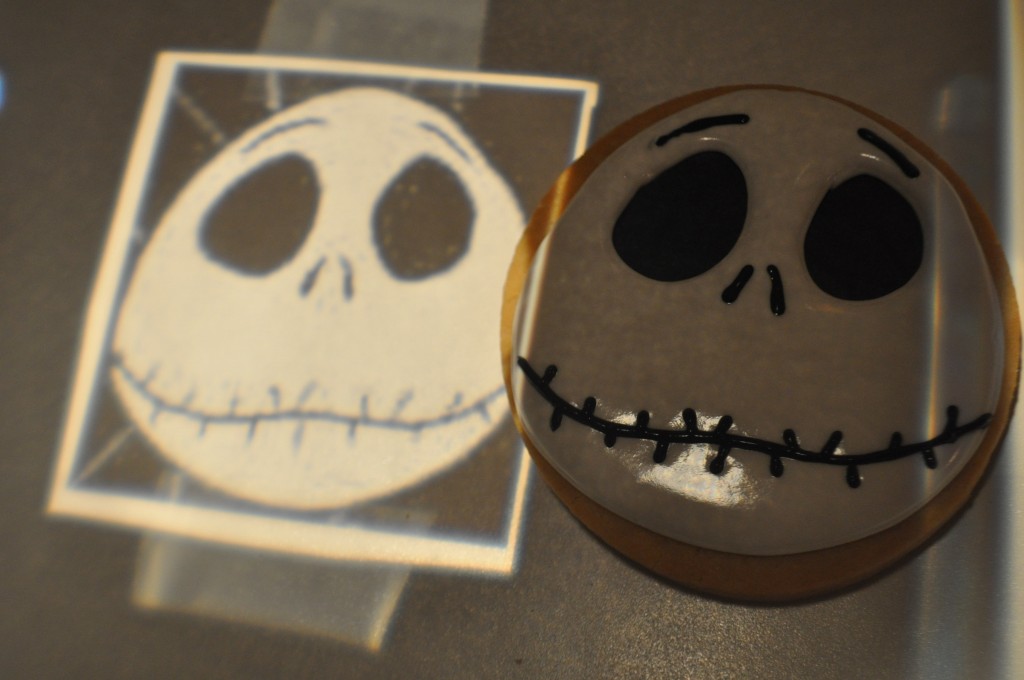 Last add the details, using a wet-on-wet technique.  I used a PME size 1 tip because the icing tends to spread more when you are putting wet icing on top of wet icing.  Now repeat and repeat!  I worked with a tray of 12 cookies at a time.  I finished these at 4 a.m. and they were dry and ready to be packed at noon, about 8 hours later.
Another thought I want to share… I am showing the ugly cookies.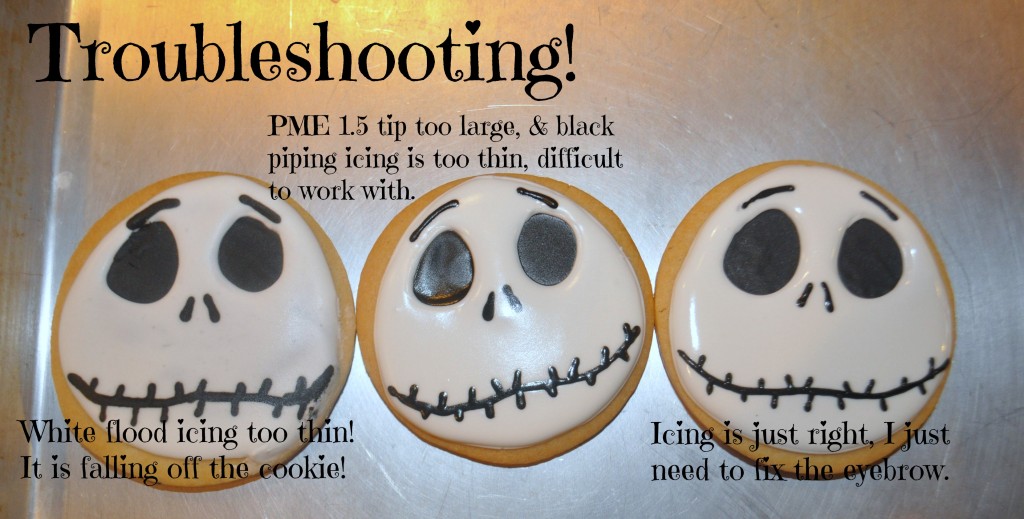 Usually it takes me a few cookies to get into a good decorating groove.  I need to get the icing just right, find the right tips and make sure I'm happy with the design.  Here are a few not so perfect cookies that I did first and explanations as to what I had to change.  I wanted to use white flood icing from a couple of days ago but it was too thin.  I also had trouble with the black icing for detailing.  It was too thin so I added a bit of sifted powdered sugar to thicken it up.  The last cookie helped me just to get my hands steady and into decorating mode.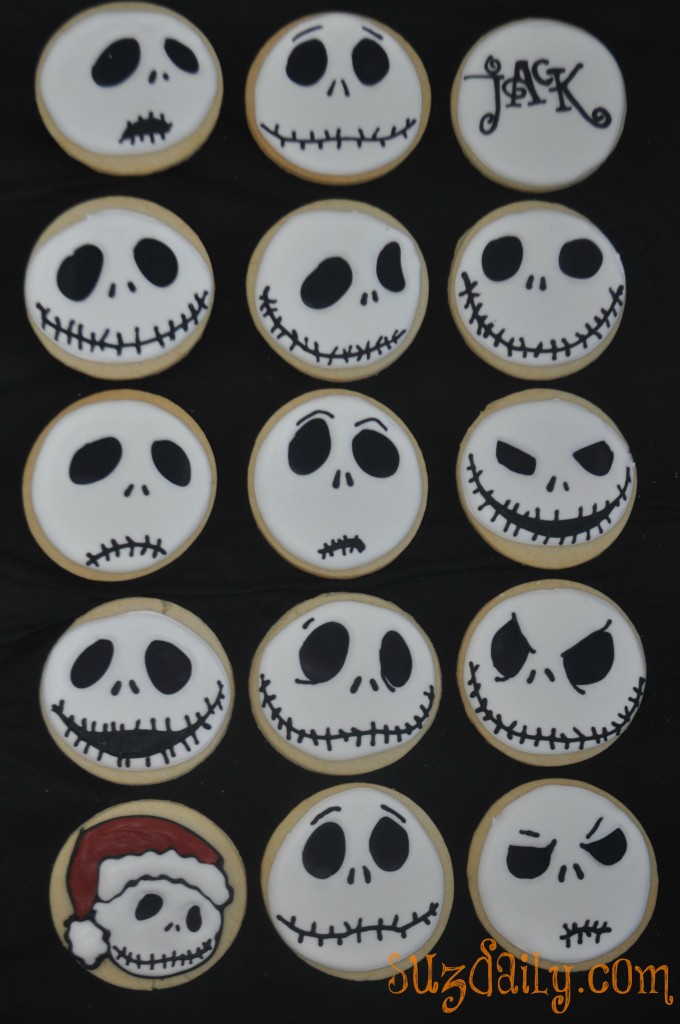 Here are more of the cookies, plus the designs I don't love.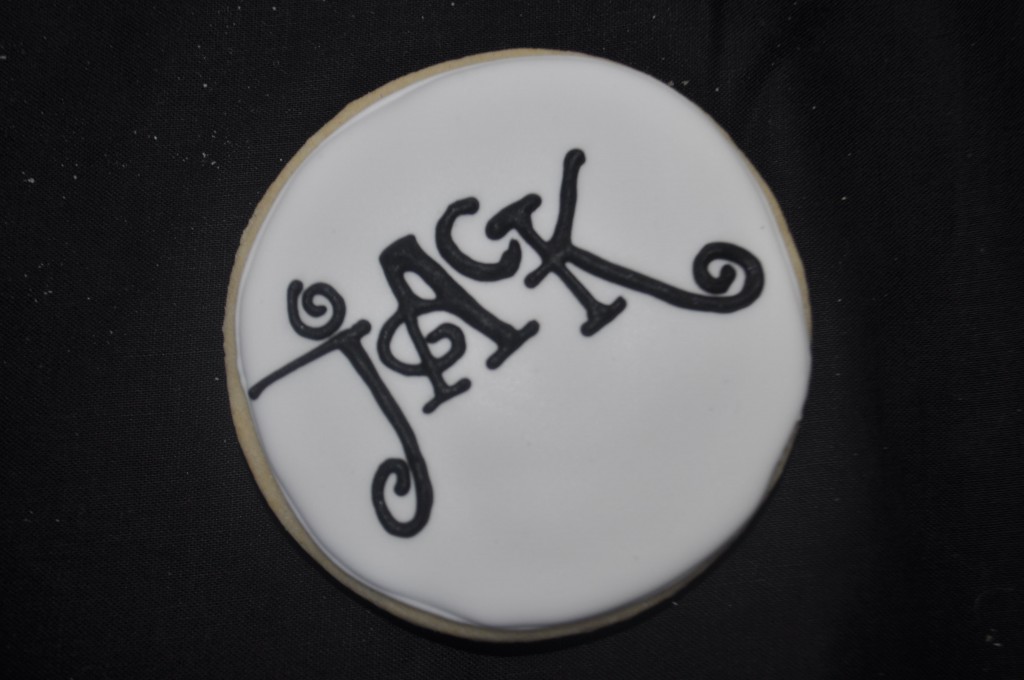 Now the close-ups.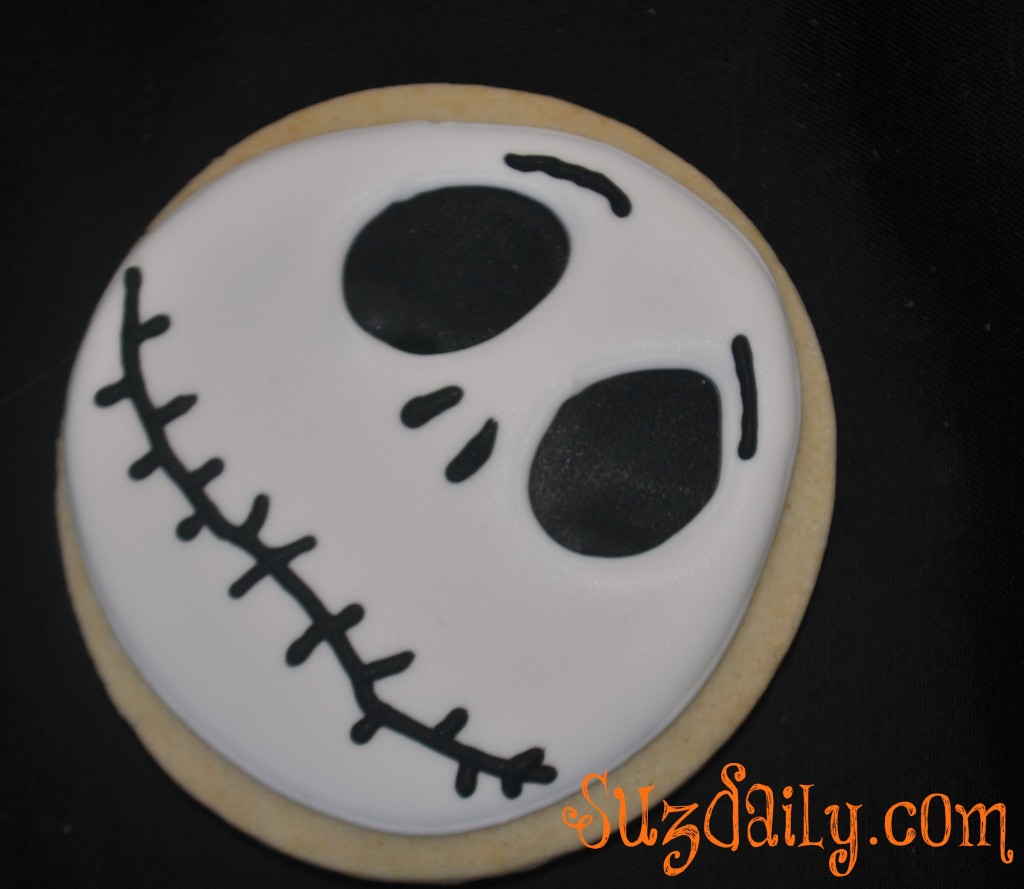 Okay, last one I promise.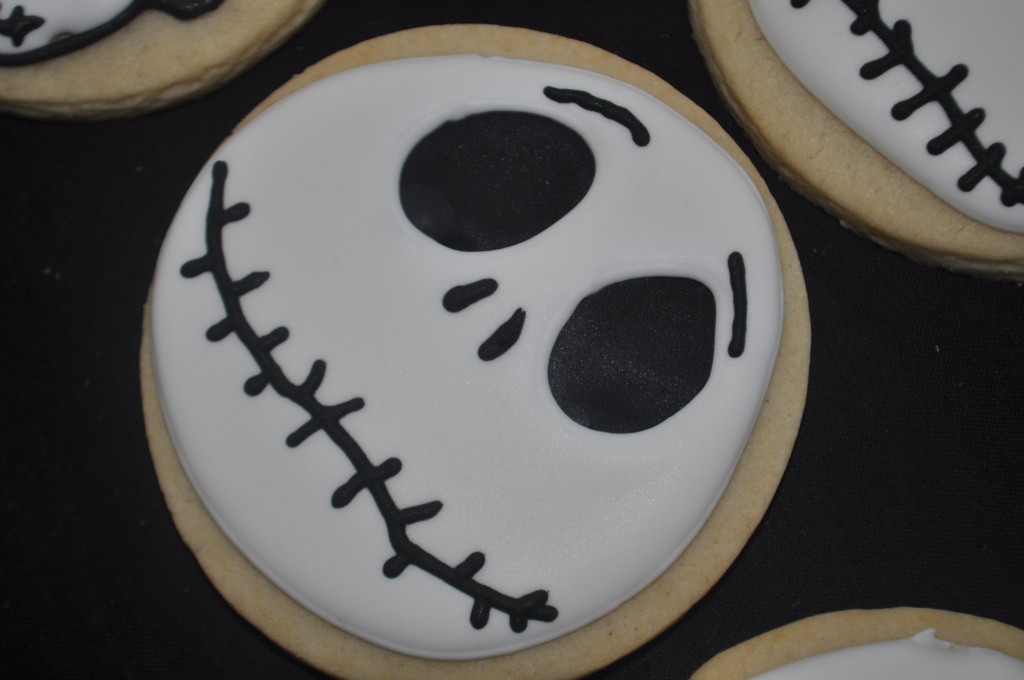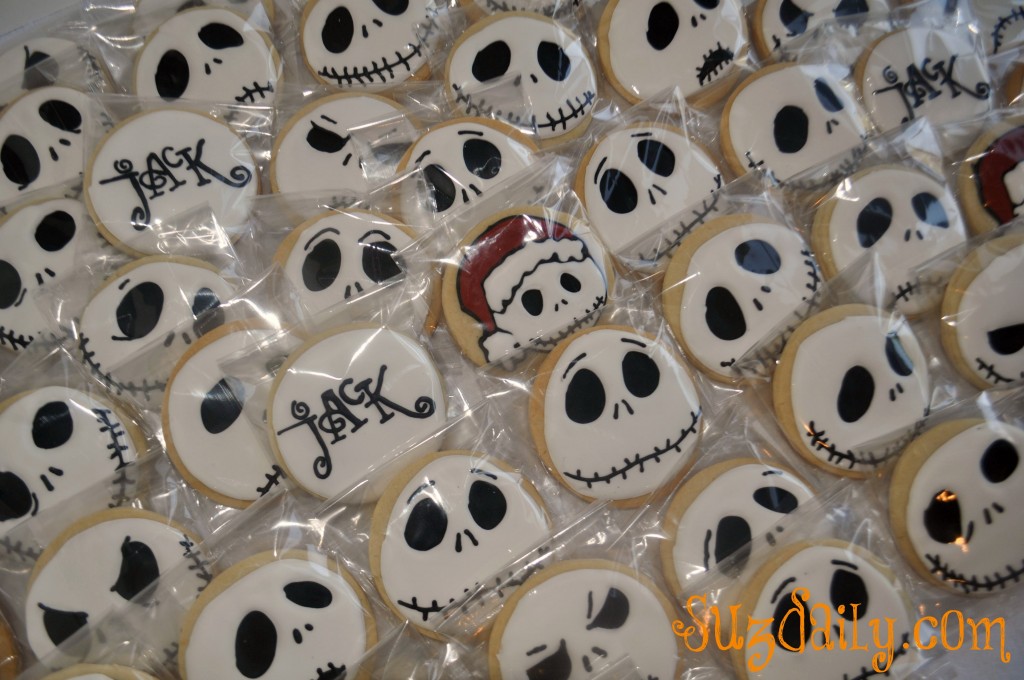 I really have to see this movie now.