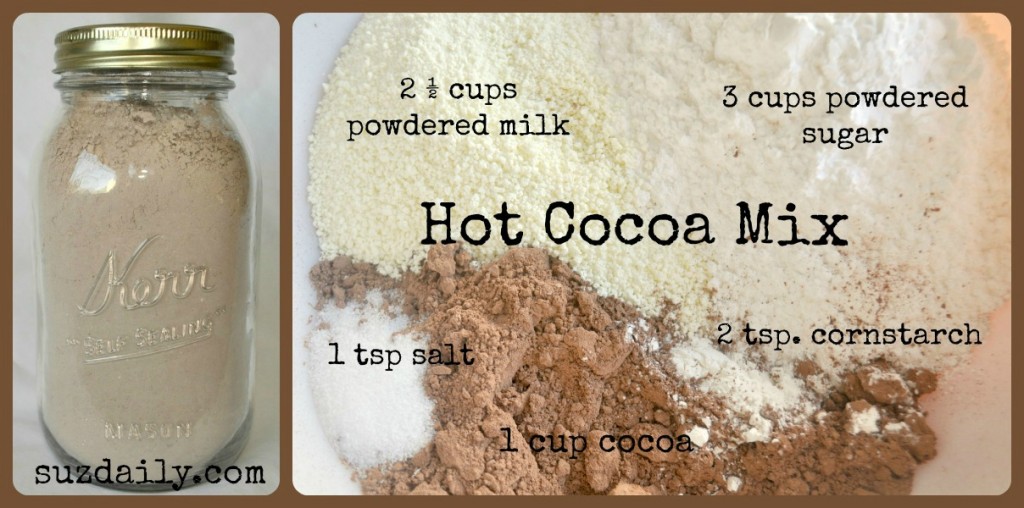 It is cold here in Phoenix, temperatures are below 60 degrees!  We were out of hot cocoa mix and I was forced to make it out of pantry staples.  The flavor is rich and I'm so happy with the results.  This would make a great gift.
It is so simple; just mix together some staples from your pantry.  I am always trying to find ways to use the non-fat powdered milk from my food storage.  Adjust flavor to your liking.  For a more robust chocolate flavor use less powdered sugar and a bit more cocoa.  I used Hershey's Cocoa because it is what I normally buy.  For a deeper chocolate flavor use Callebaut, Dutch-processed cocoa.  For a more Mexican chocolate flavor add ½ teaspoon ground cinnamon.  When ready to use simply fill your cup ½ full with hot cocoa mix and add hot water.  This makes a great gift.
Hot Cocoa Mix
3 cups powdered sugar
2 ½ cups powdered milk
1 cup cocoa
1 teaspoon salt
2 teaspoons cornstarch.
Whisk ingredients together.  Store in an air-tight container.  Prepare hot cocoa by filling mug ½ full with hot cocoa mix then adding hot water to fill mug.  Whisk together.  Serve with whipped cream.