How to package Cookies:  It's all about the tools…
I finally have the tools to package my cookies so that they look professional.  I prefer using the bags shown above for their shiny, professional look.  I buy the Gusseted Polypropelene Bags from a company called Uline.  If you don't want to buy 2,000+ bags you can find similar bags at local craft stores or bakery supply stores.  Make sure that the bags you are using are food safe and not for packaging other materials.  I am using a professional bag sealer with a cutter from a company off of ebay.  In the description it is actually called a 8 " Impulse Sealer Heat Seal Machine Poly Sealing with Cutter Free Kit, sold by abcindustrialabc.  I'm so happy with this product I feel a need to share.
Step 1 : How to package cookies
Clean off any crumbs from the back of the cookie.  You don't want them ending up on your design.  I do this using a food safe paint brush.
Step 2: How to package cookies
Place the cookie in the bag so that you can easily see the design.
Step 3: How to package cookies
Seal the bag.  For a local order, I don't mind using bows; however, my scientific side does not feel 100% convinced that a bow is air tight.  So for an order that has to be shipped I always heat seal the bags.  Some cookie artists claim that a cookie decorated with royal icing will stay fresh for a month if sealed in a bag.  I'm not so convinced.  I like cookies to arrive and be consumed within 10 days of the time they are baked.
I am using the heat sealer shown above that has a cutter to make the package just the right size for the cookie.  If you do not have a professional sealer you can use a foodsaver.  The only drawback of a foodsaver is that it sometimes gets to hot and melts the bags, and you can not get very close to the cookie.  I have seen tutorials where people use a curling iron to seal bags.  I have NEVER had success with either a curling iron or a flat iron.  Plus, even if it has never been used on hair.  It just isn't right.  When I tried it either the bags did not seal or the iron melted the bag.  I also tried a regular iron.  Bad idea altogether.
So either find an inexpensive foodsaver at a yard sale, or an inexpensive bag sealer.  If you want to spend a little bit more, go with the industrial bag sealer with a built in cutter.  So worth the $50 investment.  I may use it to weigh and portion snacks if I ever go on a diet again.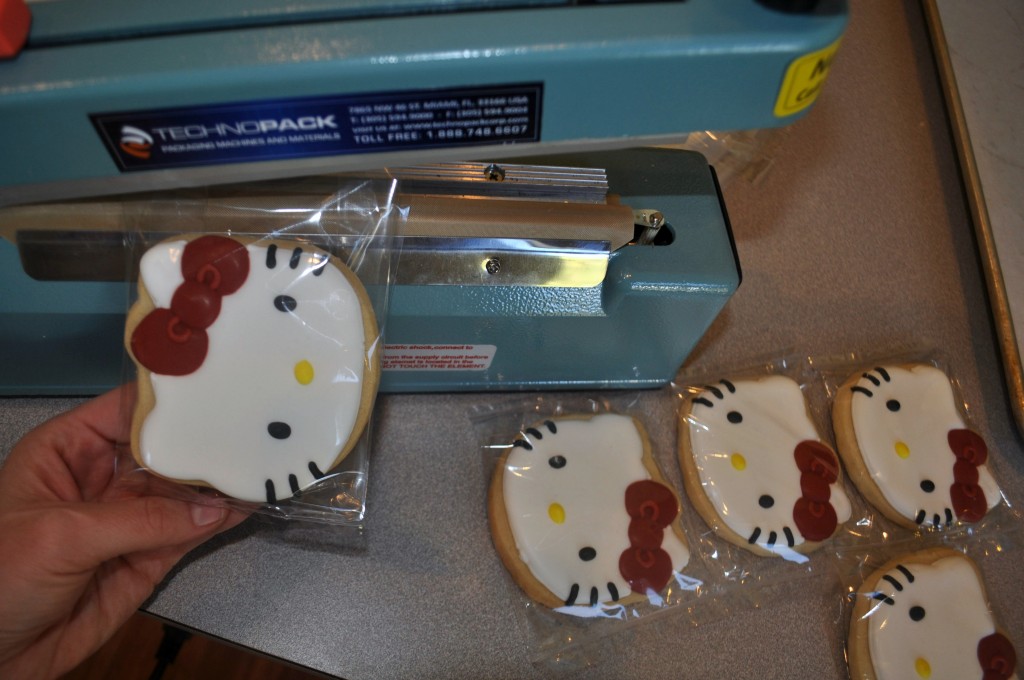 Packaging Hello Kitty Cookies