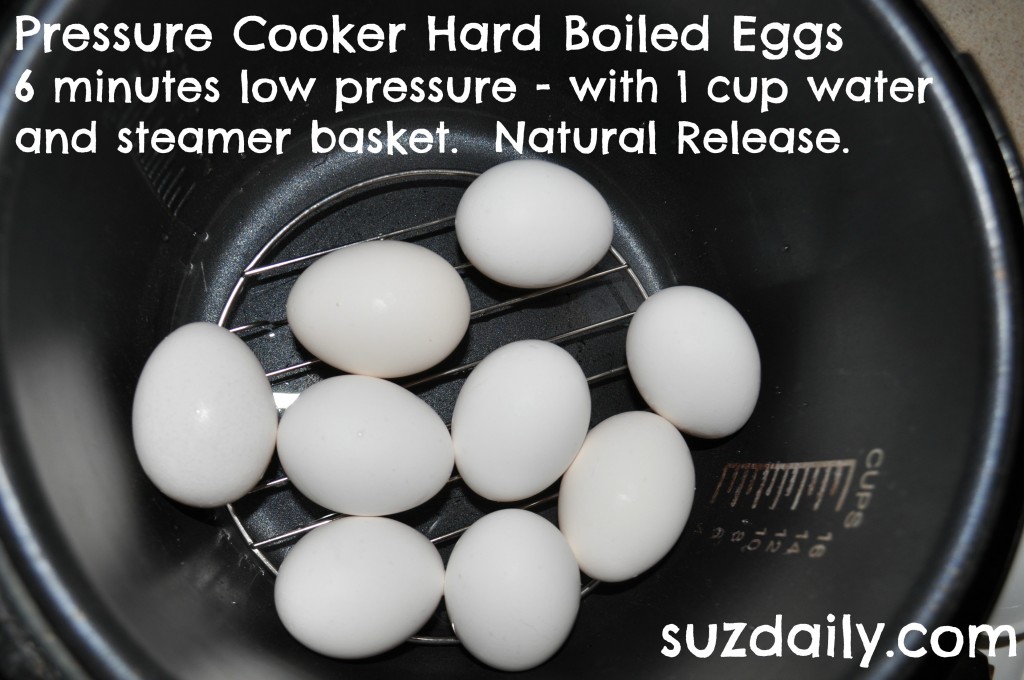 We are in healthy eating mode… so lots and lots of egg whites is part of that.  I love the way an egg white can make a salad suddenly substantial.  I needed hard boiled eggs for lunch today but I did not want to heat the kitchen cooking them on the stove top.  I had heard about making hard boiled eggs in the pressure cooker but never tried it before.  I am so happy with the results.  The eggs cooked very quickly and even better, it was SO easy to remove the shells!  They peeled right off.  The pressure cooking must do something to help release the egg shell!  I  can't wait to make dozens of these using the pressure cooker next Easter.  I only made 9 eggs, but I am pretty sure 12 would be just fine.  I am using one of my favorite kitchen accessories, my Cuisinart Electric Pressure cooker.
Hard Boiled Eggs in the Pressure Cooker
1 cup water
6-12 large eggs
Place 1 cup of water in the bowl of the pressure cooker.  Now use the small wire steamer insert to lift the eggs off the bottom of the pressure cooker.  Cook on low pressure for 6 minutes.  Allow the pressure to release naturally.  Remove the eggs and allow them to cool.  Peel and serve.
For soft boiled eggs, follow the same instructions, except reduce cooking time to one minute low pressure with quick pressure release.  For medium boiled eggs, the same holds true, except the eggs are cooked three minutes on low pressure with quick release.  It may be necessary to run the eggs under to cool water after cooking so they do not over cook.
Here is a great blog post if you want to know more.
The Cuisinart Electric Pressure cooker is definitely one of my all time favorite kitchen tools!