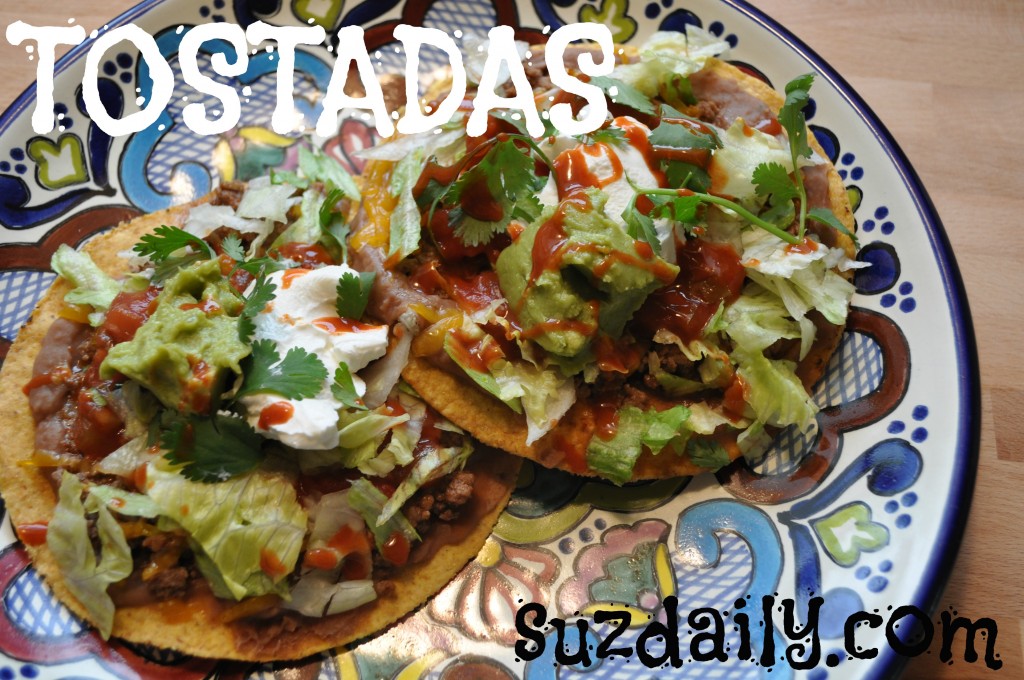 We love making tostadas for "Taco Tuesday."  This meal is so easy to throw together using ground beef that I usually have ready to go in my freezer.  I also use homemade refried beans that are a staple in our house.  I found that the meal went smoother if I premade and warmed the tostadas in the oven before dinner.  This is almost like making a Mexican Pizza – layering meat, beans, cheese and other fresh toppings.  Keep reading for more details on how we make the tostadas.
Tostadas:
Prepared ground beef, recipe found here
Refried beans, recipe recipe found here
Shredded Cheese
Ideas for toppings:
Shredded lettuce
Salsa
Sour cream
Cilantro
Avocado
Sliced olives
jalapenos
hot sauce
ranch dressing
Place tostadas on a baking sheet lined with aluminum foil.  Coat each tostada with a layer of warm refried beans, ground beef and shredded cheese.  Place in a warm oven until the cheese melts.  This allows the tostadas to soften slightly, making it easier to eat the tostada. Serve the tostadas with just the meat, beans and cheese.  Allow each person to place the cool toppings and salsas on to their liking.  This recipe is definitely an Americanized version of a tostada.  An authentic Mexican tostada would have chicken with fresh salsas, lettuce and crema.  Seafood tostadas are another popular authentic version of this dish.  This is one of our favorite busy week night dinners.  Enjoy!