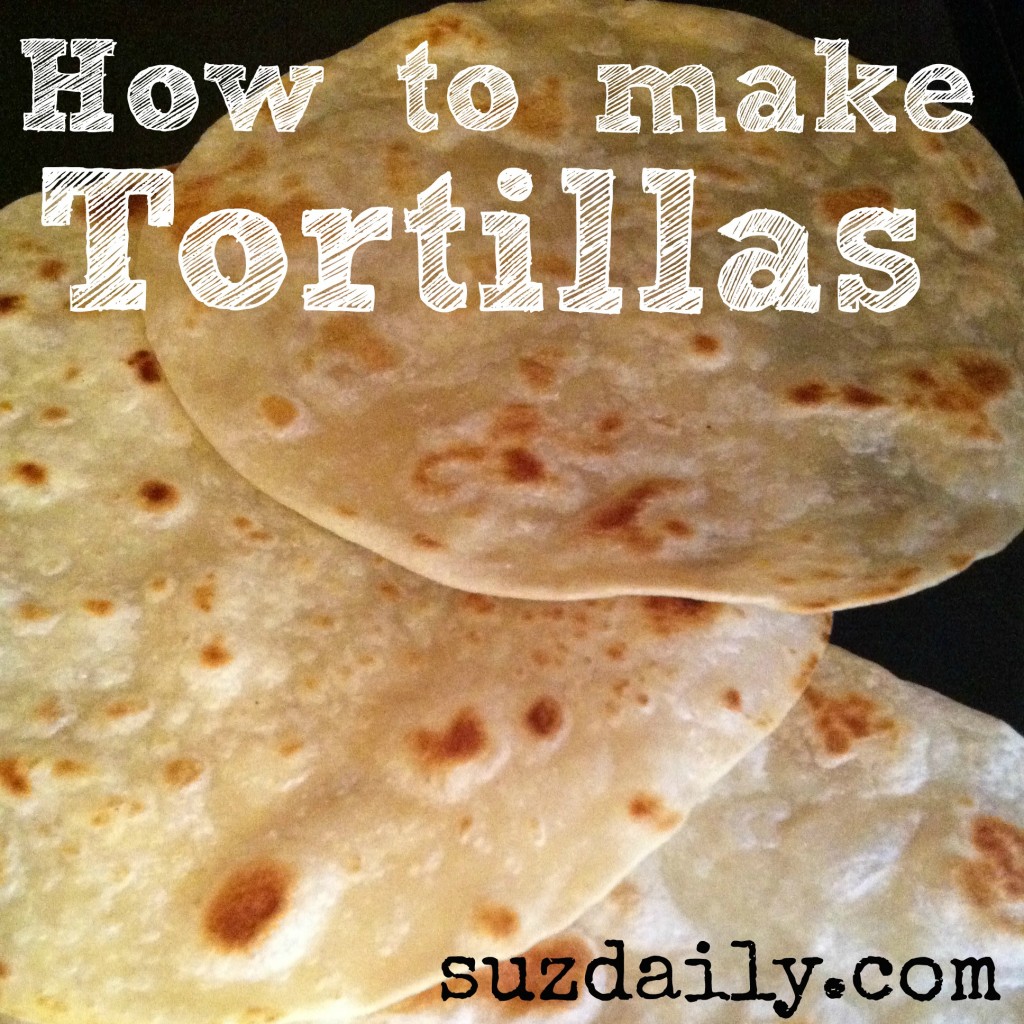 Okay Becca, this is for you!  Finally my favorite scrap of paper recipe is now available online!  I have been working on a tortilla recipe for a long time.  There are so many variations that work just fine.  I have used lard, shortening, butter, margarine, vegetable oil just to name a few.  The lard and shortening give the tortillas a nice flaky, rich texture.  Really unhealthy hydrogenated high lift shortening works especially well.  But, let's face it.  This is a food we eat at least 2-3 times a week.  I do not want lard stinking up my fridge and I should at least try to make this food heart healthy.  So all you tortilla experts out there – I get it!  Lard or other solid fats make tortillas taste great and I will use those fats from time to time.  For now, this is my everyday favorite!  These are very similar to the tortillas sold in bulk at Sam's Club or Costco. (But they taste better fresh!)  They store well uncooked in a ziplock bag.  I usually double the recipe to get 3-4 dozen tortillas for the week.  These also can be kneaded in a heavy duty mixer or of course by hand.  When I want to avoid an expensive trip to the grocery store, I remember I can always make homemade tortillas and refried beans using ingredients that I always have on had.
Homemade Tortillas
750 grams all purpose unbleached flour* (about 5.5 cups)
2 teaspoons white sugar
2 teaspoons salt
1/4 teaspoon baking soda
1.5 cups plus 2-3 Tablespoons warm water
3/4 cup canola oil
Place flour, sugar, salt and baking soda in the bowl of a large capacity food processor.  You will need at least a 14 cup capacity to make this much dough.  If you have a smaller food processor reduce all quantities by 50%.  Pulse the ingredients to combine.  With the machine running add the 3/4 cup canola oil.  Next add the 1.5 cups warm water.  As needed add water one Tablespoon at a time until a nice soft, stretchy dough is formed.  If the dough feels or appears dry add a bit more water.  Knead by running the food processor for an additional 45 seconds.  Of course you can knead the dough by hand or in a heavy duty mixer in which case you knead for at least 5-8 minutes to get a nice smooth dough.
Take the dough out of the machine and place on a clean counter and divide into palm sized dough balls.  If you want the tortillas to be even, weigh each piece of dough.  70 gram portions of dough will give you 18 large 10 inch tortillas.  55 gram portions of dough will give you 24 smaller 8 inch tortillas.  Allow the balls of dough to rest on the counter, covered for at least 20 minutes.  This allows the gluten to relax and will give you a softer, thinner tortilla.
About 15 minutes into the resting phase preheat the Villawear tortilla press.  After the dough has rested coat the tortilla press with the smallest amount of oil.  Add between tortillas as needed.  Form the tortillas using the tortilla press.  Flatten one time, flip the tortilla and flatten again.  Cool the tortilla on a rack and then place in a ziplock bag if you would like to use the tortillas later.  Cook either in the tortilla press or on a skillet when ready to eat the tortillas.  Makes 18-24 flour tortillas.  Continue reading for photos and more details on how to make tortillas in a food processor.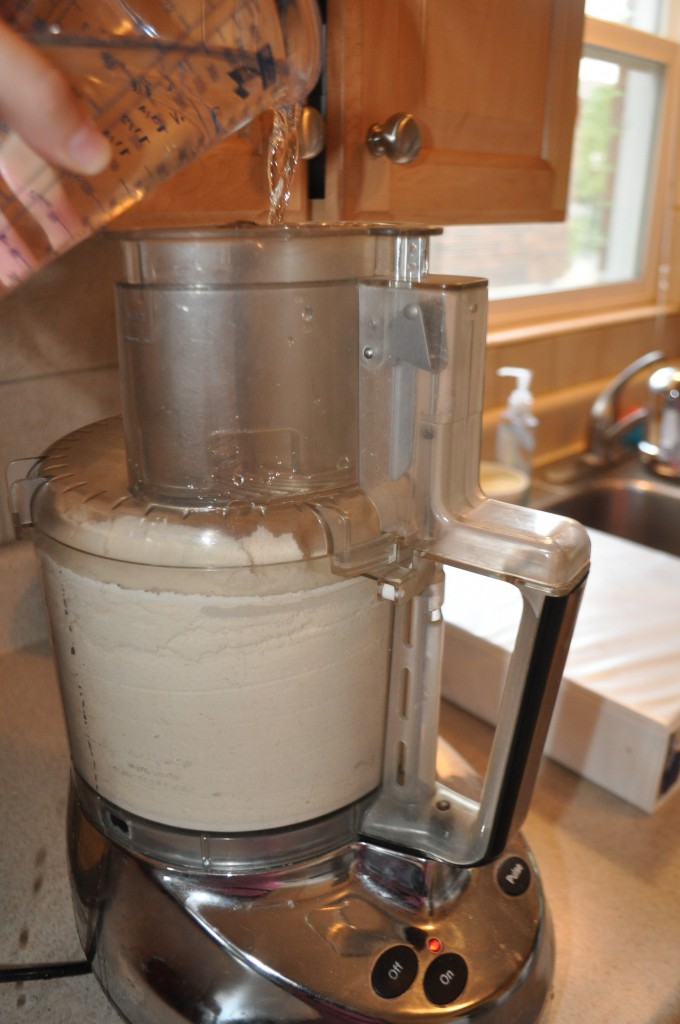 Step 1 – How to Make Tortillas in the Food Processor – Mix the Dough
To begin I place 750 grams all purpose unbleached flour in the bowl of a food processor.  Add the 2 teaspoons sugar, 2 teaspoons salt and 1/4 teaspoon baking soda.  With the machine running (as shown above) add the 3/4 cup canola oil.  Add 1.5 cups water plus 2-3 extra tablespoons water as needed to make a smooth soft dough.  The exact amount of water needed will depend on the humidity in your area.  I am making these is Salt Lake City, Utah, a dry dessert climate so I always need a bit more water.  In a humid climate less water is necessary to get a soft stretchy dough.  Knead the dough in the food processor for 45 seconds.  The dough should be again be very soft, stretchy and smooth.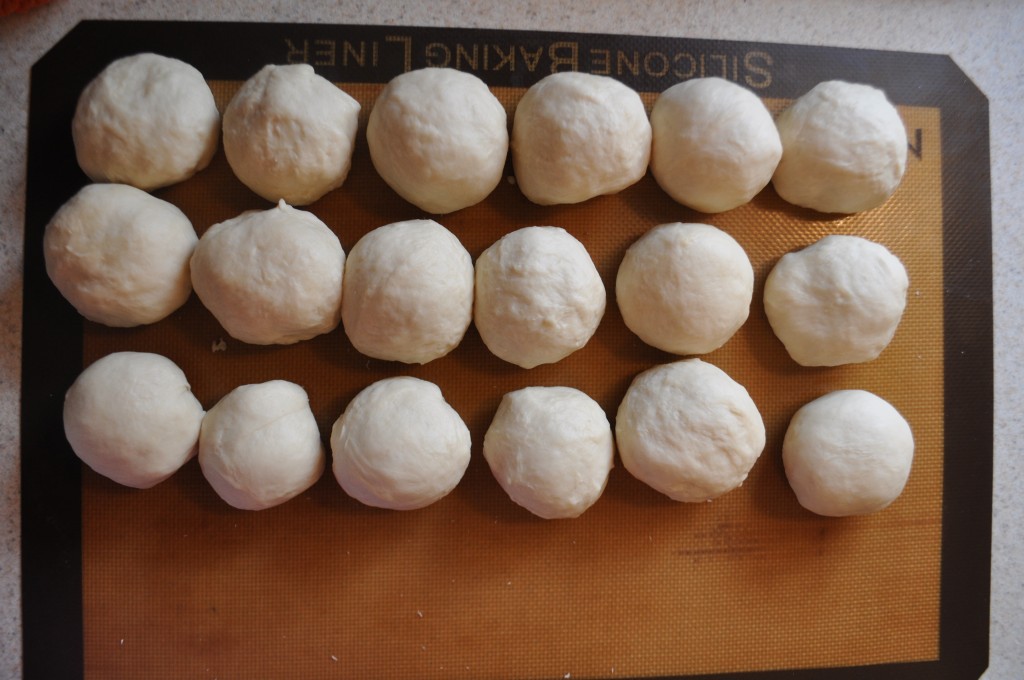 Step 2 – How to Make Tortillas in the Food Processor – Divide the dough and form into a ball
The final amount of dough will weigh around 1275 grams total (thanks Becca!).  So, do the math.  For 18 ten inch tortillas I will divide the dough into 70 gram portions.  For 24 seven to eight inch tortillas divide the dough into 55 gram portions.  For my family, we go through these tortillas so fast I just guess and make the balls of dough about the size of my palm.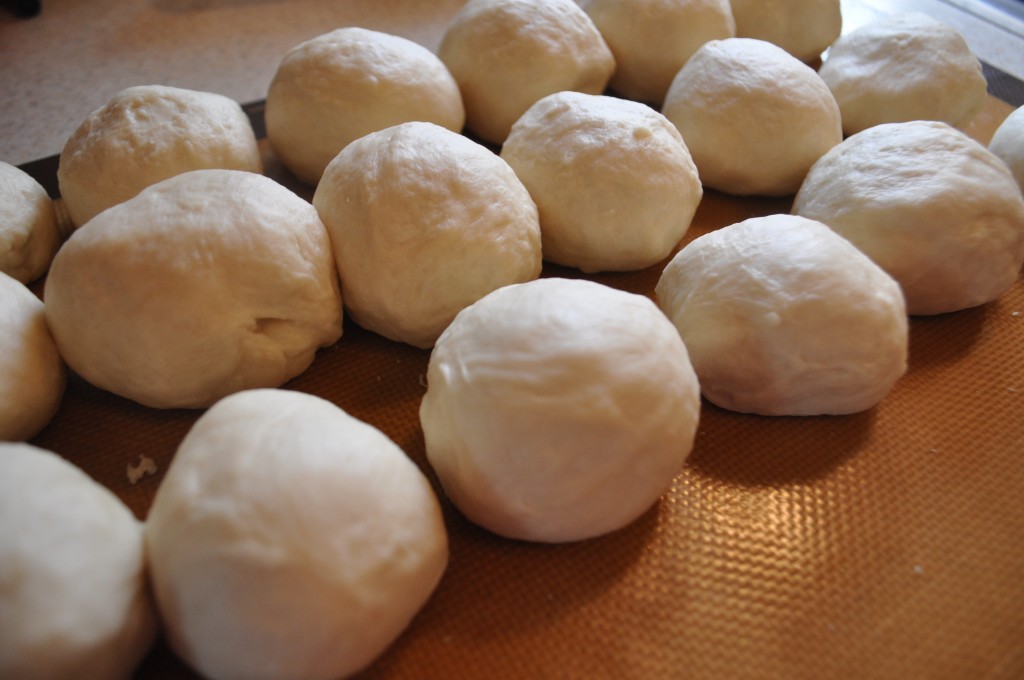 Step 3 – How to Make Tortillas in the Food Processor – Allow the dough to rest 20-30 minutes
The dough all lined up and ready to go.  You could proceed and try to flatten the dough at this point but PLEASE WAIT!  The tortilla dough needs time to rest so that it can be easily rolled out into thin tortillas.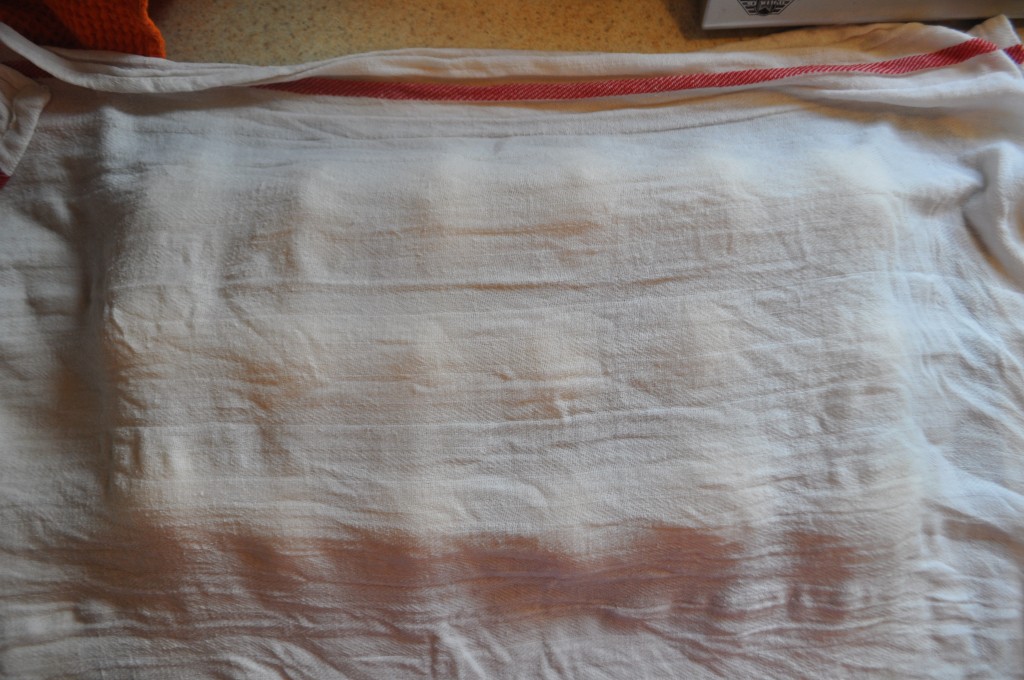 I like to cover my dough in a clean, damp cloth as it rests.  You could also use saran wrap.  It is just very important that the dough does not dry out as it rests.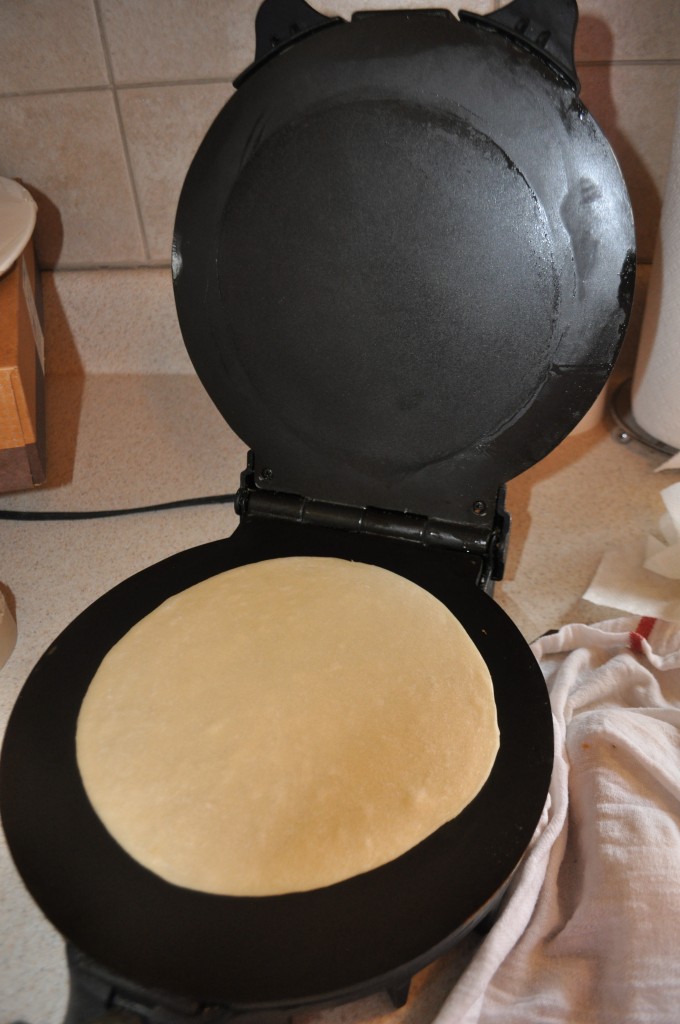 Step 4 – How to Make Tortillas in the Food Processor – Flatten the dough and form the tortillas
Be sure to preheat the tortilla press about 5-10 minutes before you are going to form the tortillas.  Add a bit of oil to the top of the press before using so the dough doesn't stick.  After the dough has rested simply place a ball of dough in the center of the tortilla press and push down.  Remove the dough, and flip it to the other side and press again.  If you press too hard the dough will rip (don't worry the kids will still eat it).  I love the Villawear tortilla press.  It allows me to form up to 24 tortillas in under 5 minutes.  Yes I have timed how long it takes!   I have rolled tortillas by hand using a rolling pin.  This works as well, it just takes a lot longer.  I realized every-time I make tortillas at home I save about $6 (plus more when you consider gas and add on purchases) – so my tortilla press paid for itself after about two months of use.  I also can make other delicious flat breads using the tortilla press.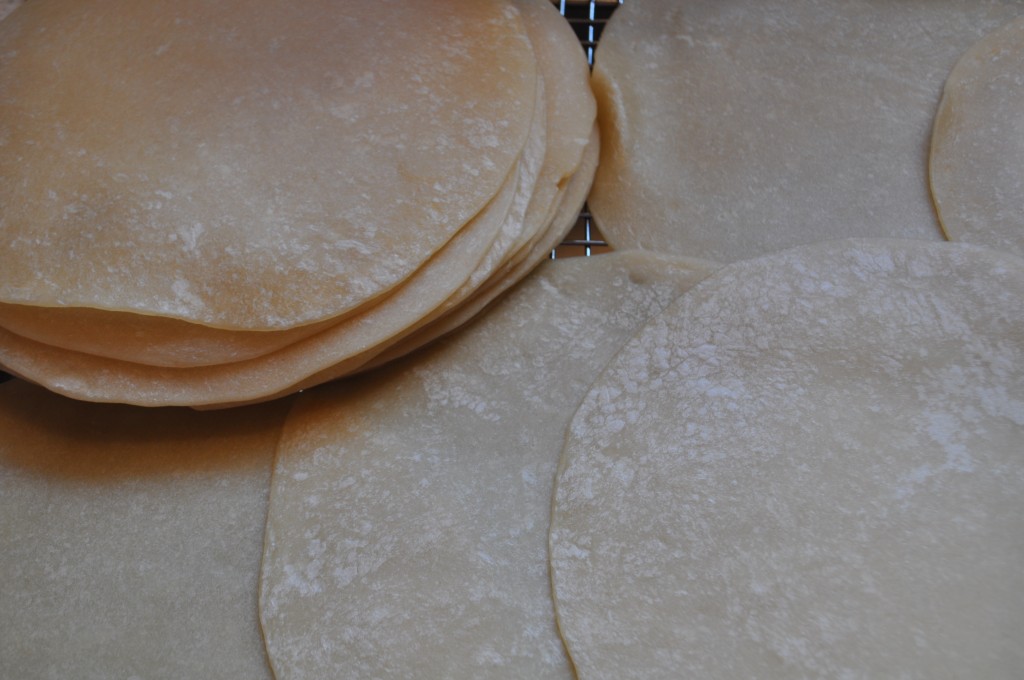 Step 5 – How to Make Tortillas in the Food Processor – Cool the uncooked tortillas and store in a Ziploc bag
I usually stop at this point.  I let the flattened tortillas cool before storing them.  If you stack them when they are too hot they will stick together.  If you wanted you could continue cooking the tortillas at this phase.
I usually double this recipe and store the tortillas in two gallon sized Ziploc bags.  We eat a lot of tortillas with homemade refried beans, RECIPE HERE and cheese so I try to always have uncooked flour tortillas on hand.  I also use these for breakfast burritos, RECIPE HERE, fajitas, etc. etc.
Step 6 – How to Make Tortillas in the Food Processor – Cook the uncooked tortillas on a hot skillet
Just before the meal I cook the tortillas on a hot skillet.  No oil or butter is needed on the skillet — but if you have to add a bit of butter to these and you will not be disappointed.  Homemade tortillas with a bit of salted butter … yum!!!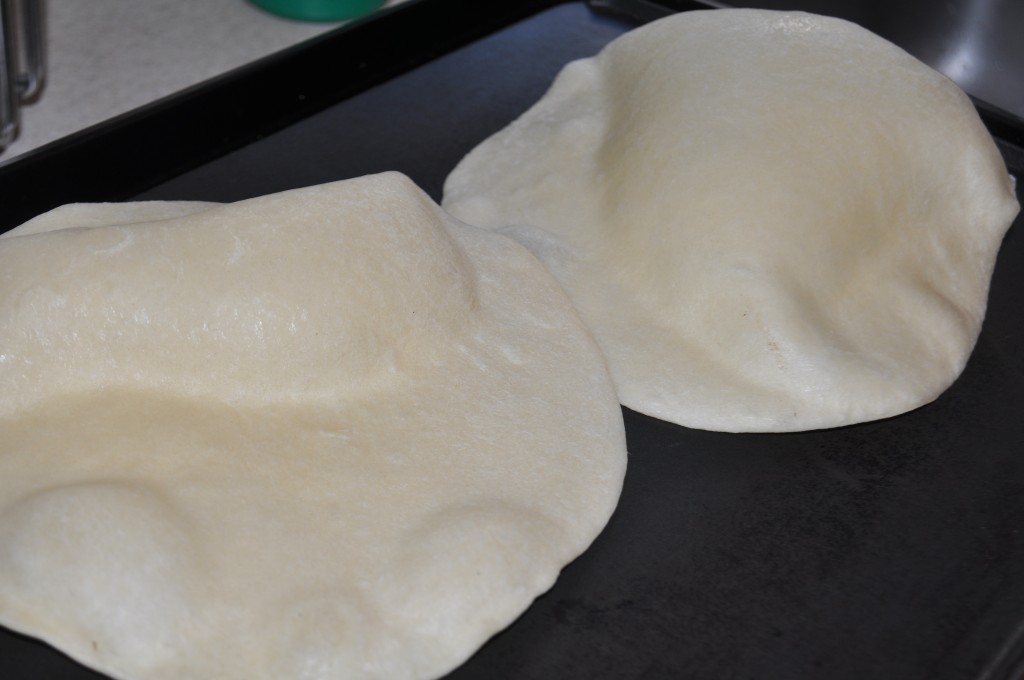 I love the way these tortillas bubble up as they are cooking.  Some people pop the bubbles, others don't.  It's up to you.  Popping the bubbles leads to more even cooking of the tortillas.  If you leave the bubbles you get more variation on the surface of the tortilla.  Flip the tortillas…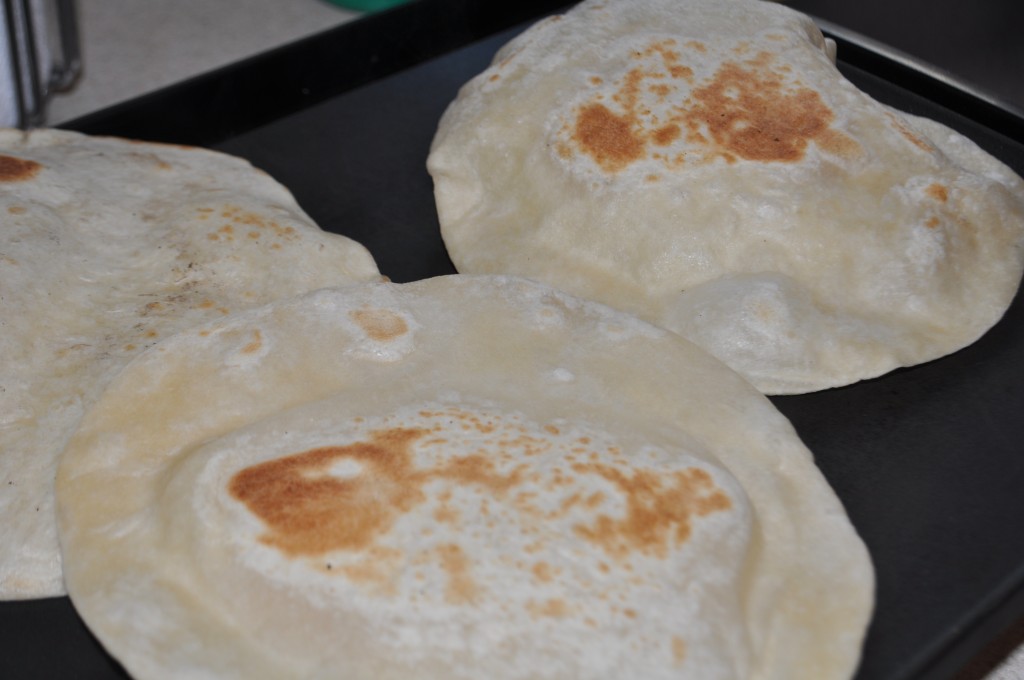 Almost ready…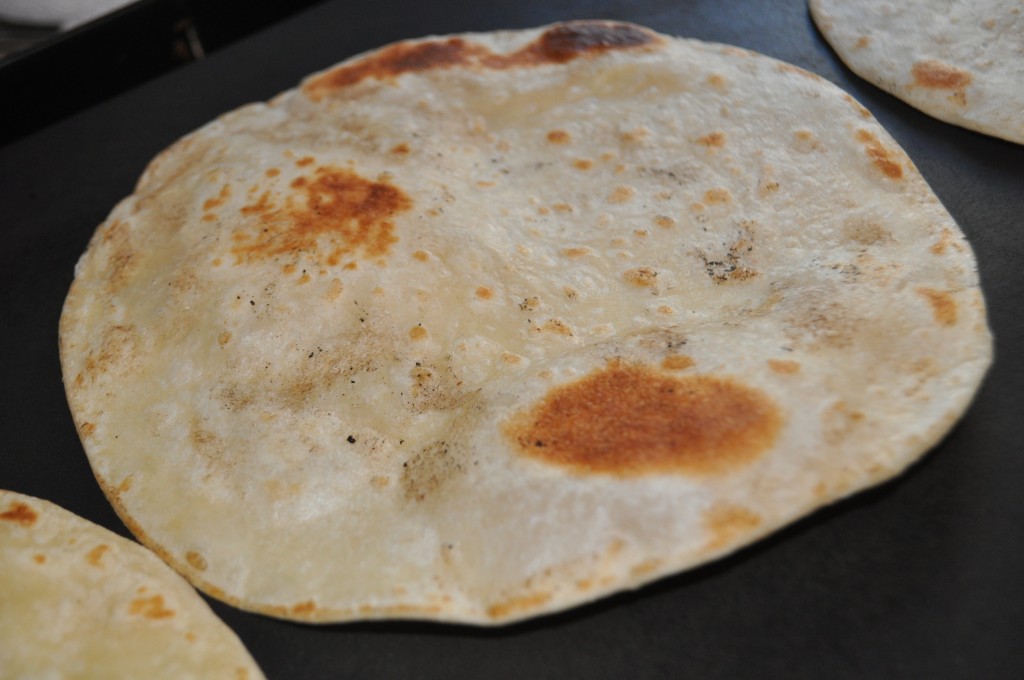 Done.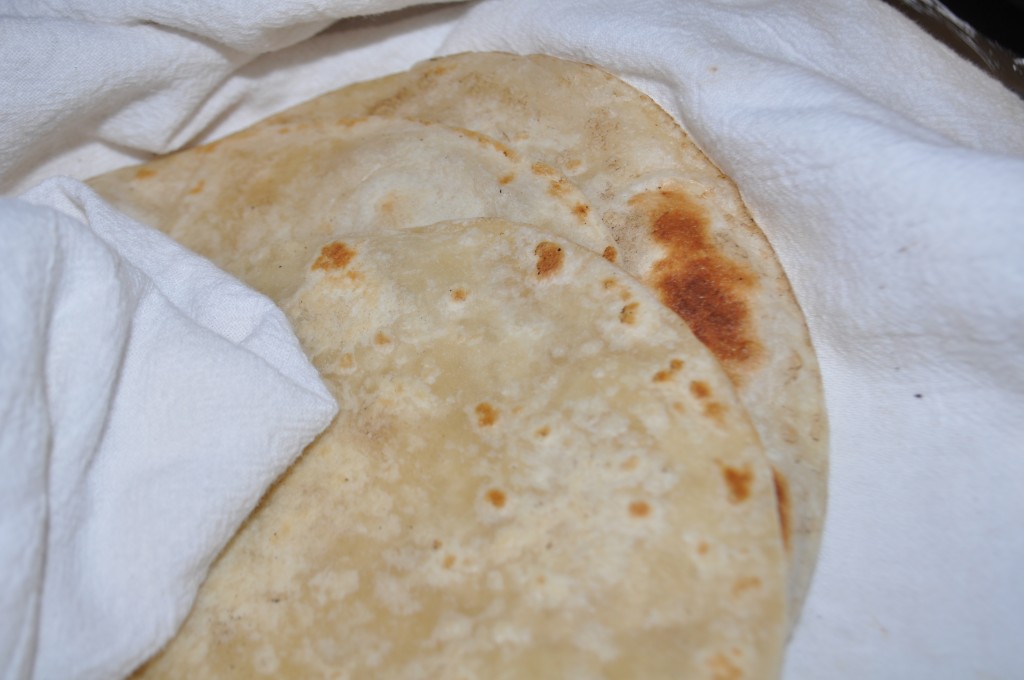 I usually make about a dozen tortillas for my family of 7 to eat each meal.  I wrap them in a clean dry cloth after they are cooked so that they stay warm and do not dry out as we wait.  Wrapping them leads to a softer tortilla altogether.  Enjoy!