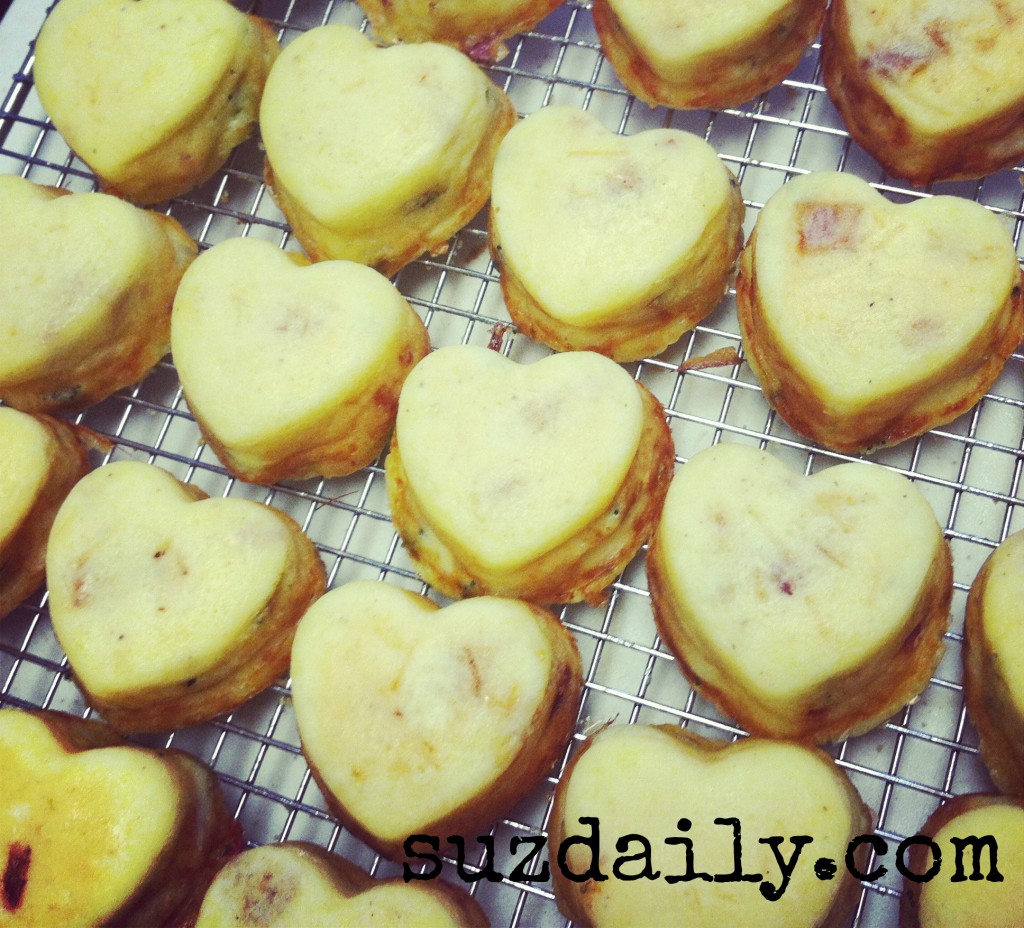 Simple Crustless Quiche
2 cups whole milk
4 eggs
3/4 cup Bisquick baking mix
1/4 cup salted butter, softened
1 cup grated Parmesan cheese
1/4 cup onion, diced and sauteed in butter (1/8 cup sauteed onions)
1 heaping cup chopped broccoli
1 cup cooked ham, chopped
1 cup shredded Monterrey Jack/cheddar cheese
1/4 teaspoon salt
1/8 teaspoon pepper
Preheat the oven to 375 degrees F (190 degrees C).  Coat a 10 inch quiche pan or pie dish with butter.  In a large mixing bowl, beat together milk, eggs, Bisquick, softened butter, salt, pepper and Parmesan cheese.  Batter will have some small lumps.  Gently stir in broccoli, sauteed onion, ham and Monterrey Jack/cheddar cheese.  Pour into prepared quiche dish. Must be cooked immediately.  Bake in preheated oven for 40-50 minutes, or until the eggs are set and the top is golden brown.  To avoid over or under-baking, test the quiche to make sure it is at least reached an internal temperature of 165 F, and no warmer than 185 F.  It is helpful to use a meat thermometer with an alarm to help monitor the baking.  Quiche will set up when cooling.  Gently release the sides of the quiche with a butter knife.
If desired, bake in nonstick muffin tins.  They will cook faster, 15-18 minutes depending on your oven.  If making small quiches add the ham, broccoli and cheese with a slotted spoon to each tin to ensure even distribution.  Be sure to cut the broccoli and ham smaller for a smaller portion as shown above.  Makes 12-18 muffin sized quiches.
Quiche Lorraine: Replace 1 cup ham with 1 cup chopped cooked bacon.  Do not add broccoli.  Instead of Monterrey Jack/Cheddar cheese use 1 cup shredded Swiss cheese.  Be sure to add 1/8 cup sauteed onions.
My Mom made this recipe to feed over 40 people at a recent Daughters of the Utah Pioneers luncheon.  I was very skeptical of the use of Bisquick in a quiche recipe.  She told me that she has only ever made quiche using Bisquick. The end result was much better than I had expected.  I did not at all miss the fatty, soggy crust that is in so many quiches I've tried.   Everyone loved this!  My older brothers Doug and Roy commented, "this is the best thing Mom has ever made!"  My kids even ate it for dinner with no complaints.  I am trying to think of an excuse to make this again and try other fillings.  This would be great for a morning brunch, bridal shower, or wedding shower.  I also want to try making teeny tiny appetizer sized quiches in my mini muffin tins.
For Valentine's Day we made over 100 mini heart quiches.  They cooked in exactly 18 minutes.  We kept them in the refrigerator over night then placed them in the oven at 325 for 20 minutes covered in foil.  These were baked in nonstick Wilton heart-shaped muffin tins.
Variations… obviously you could cut back on the fat.  Use low-fat milk, or less butter, but don't come complaining to me if it doesn't turn out just right.  Replace some of the Parmesan with Romano cheese to cut down on the cost. The original recipe called for shredded cheddar cheese, but I preferred to use the big bag of Cheddar/Monterrey Jack that is always in our refrigerator.  As to the ham, my Mom used a large ham from Costco.  It gave the quiche a wonderful flavor.
As with any quiche feel free to change the filling.  With this quantity egg I wouldn't go much over 2 1/2 cups total filling.  Other combinations include chopped spinach with ham, bacon, roasted veggies, leeks, etc. etc.  Use whatever leftover savory meat with a complementary vegetable.
If desired, bake ahead of time, store in the refrigerator for 2-3 days before an event.  Reheat by covering with aluminum foil and baking at 325 for 15-20 minutes.
Kitchen notes:
4/22/14:  I did not have Bisquick and broccoli so I improvised with excellent results.  I started by sauteing 1/4 cup sliced onion in about 1 Tablespoon butter.  I then added 2 cups shredded zucchini to the onion and cooked the zucchini until soft.  I added an additional Tablespoon olive oil to the pan to prevent the zucchini from sticking or burning.  I seasoned the zucchini with a bit of sea salt and cracked pepper.  In a large bow I added 6 xL eggs, added 2 cups 1% milk (because that's what I had), about 1/2 cup heavy whipping cream, 1 cup all purpose flour, 1 1/2 teaspoons baking powder, 1/4 teaspoon salt (SUBSTITUTE for Bisquick) – mixed well.  I then added 1 cup shredded Parmesan cheese, 1 cup shredded cheddar cheese, 1 cup chopped ham, and the onion/zucchini mixture.  I lined my baking dish with parchment paper at the bottom and cooking spray on the sides.  I baked the quiche at 350 as directed.  This just barely fit into a deep 9 inch cake pan.  Next time I will use two smaller 8 inch pie dishes.  I loved the flavor of the zucchini (of course I was out of broccoli).  I am going to make another one tomorrow with leftover ham from Easter to freeze.