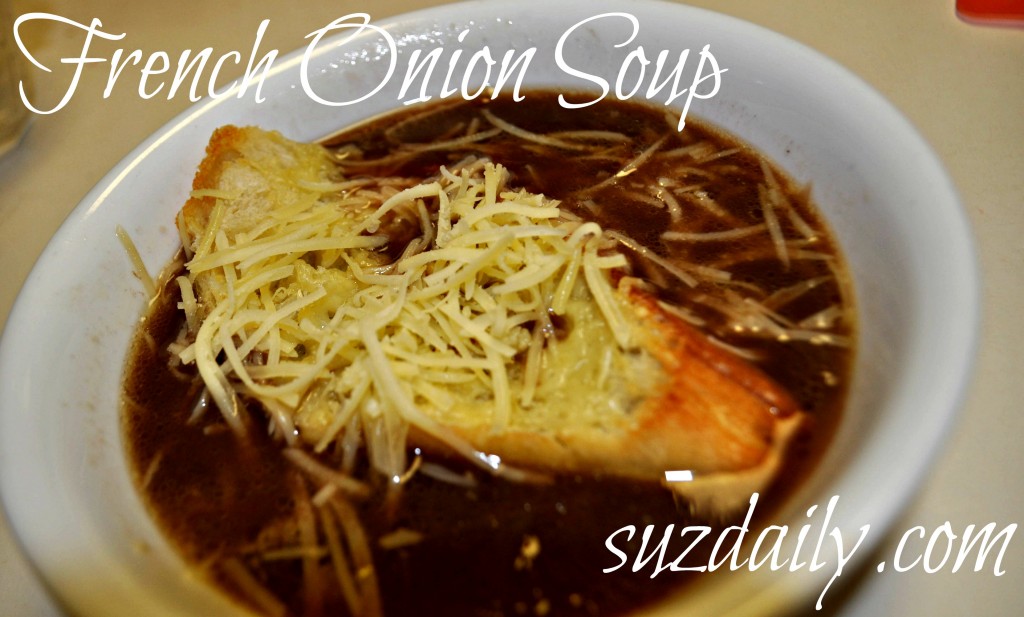 French Onion Soup
1 stick salted butter
2 Tablespoons olive oil
16 cups sliced onions (about 5 pounds, or 6-8 large yellow onions)
1 teaspoon salt
1 teaspoon sugar
2 Tablespoons flour
16 cups beef stock (four 32 oz. containers)
2 cups Cabernet Sauvignon white or red wine
1/2 cup E&J brandy
French bread
1 1/2 pounds grated Gruyere cheese
beef bouillon to taste
Heat a heavy duty saucepan over medium heat with the butter and the oil.  When the butter has melted, stir in the onions, cover, and cook slowly until tender and translucent, about 15 minutes. Blend in the salt and sugar, increase the heat to medium high, and let the onions brown, stirring frequently until they are a dark walnut color, 30-40 minutes.
Sprinkle the flour and cook slowly, stirring, for another 3 to 4 minutes. Remove from heat, let cool a moment, then whisk in 2 cups of hot stock. When well blended, bring to the simmer, adding the rest of the stock, Cognac, and wine. Cover loosely, and simmer very slowly for 1 1/2 hours – 2 hours, adding a little water if the liquid reduces too much. Taste for seasoning.  Add beef bouillon or salt if the soup is lacking flavor.
Divide the soup among 8 ovenproof bowls. Arrange toast on top of soup and sprinkle generously with grated cheese. Place bowls on a cookie sheet and place under a preheated broiler until cheese melts and forms a crust over the tops of the bowls. Serve immediately.
This recipe was introduced to me by my good friend Vickie and is a winter favorite.  The original recipe is from Food Network.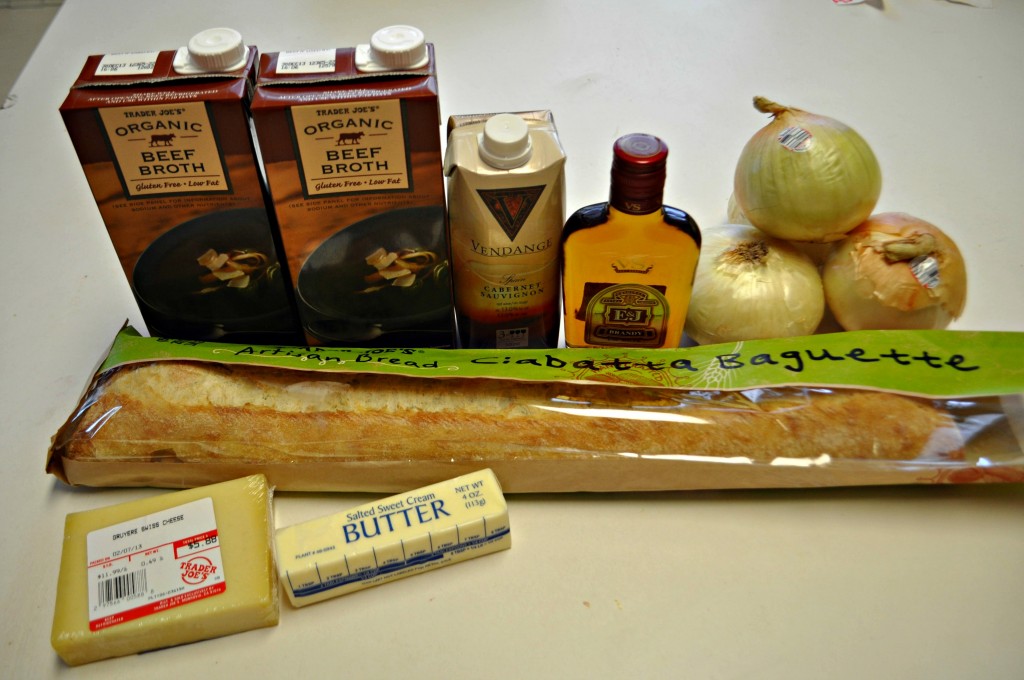 Here is what we are using to make the French onion soup.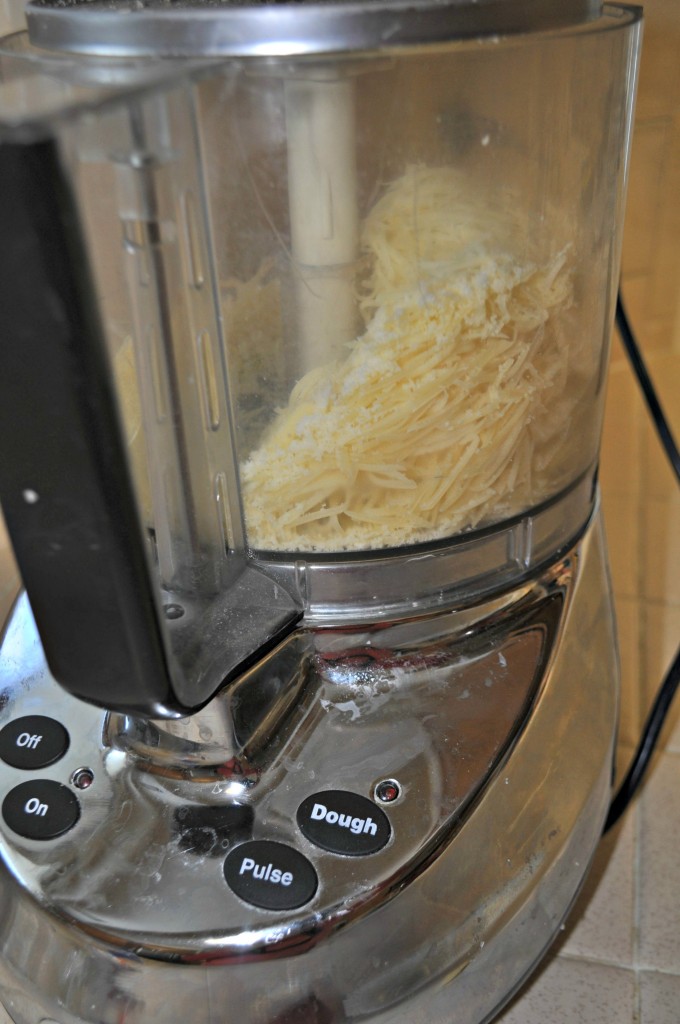 Shred the Gruyere.  Freshly shredded cheese is always the best.  Oh how I love my Cuisinart Food Processor.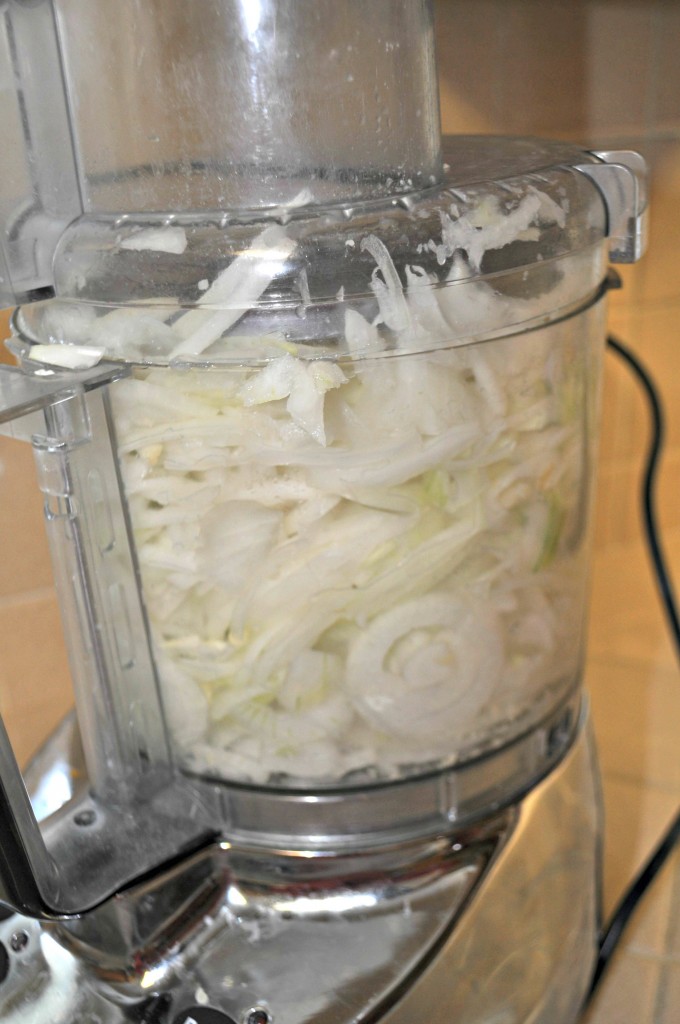 Shred the onions using the slicing blade on the Cuisinart Food Processor.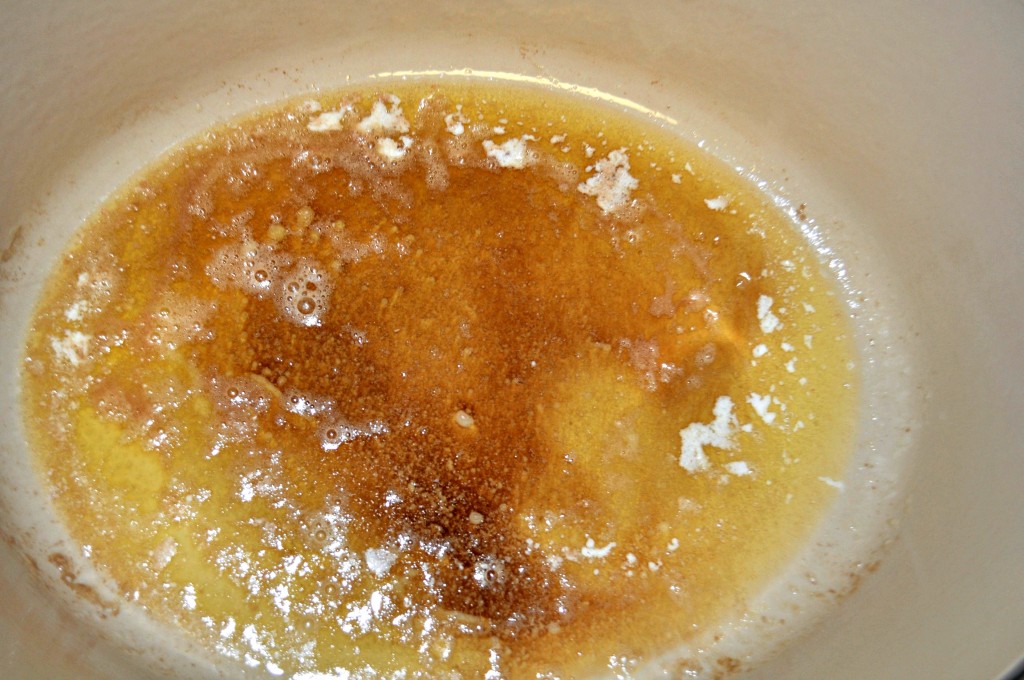 Melt the butter with the olive oil in a large stockpot or enamel dutch oven.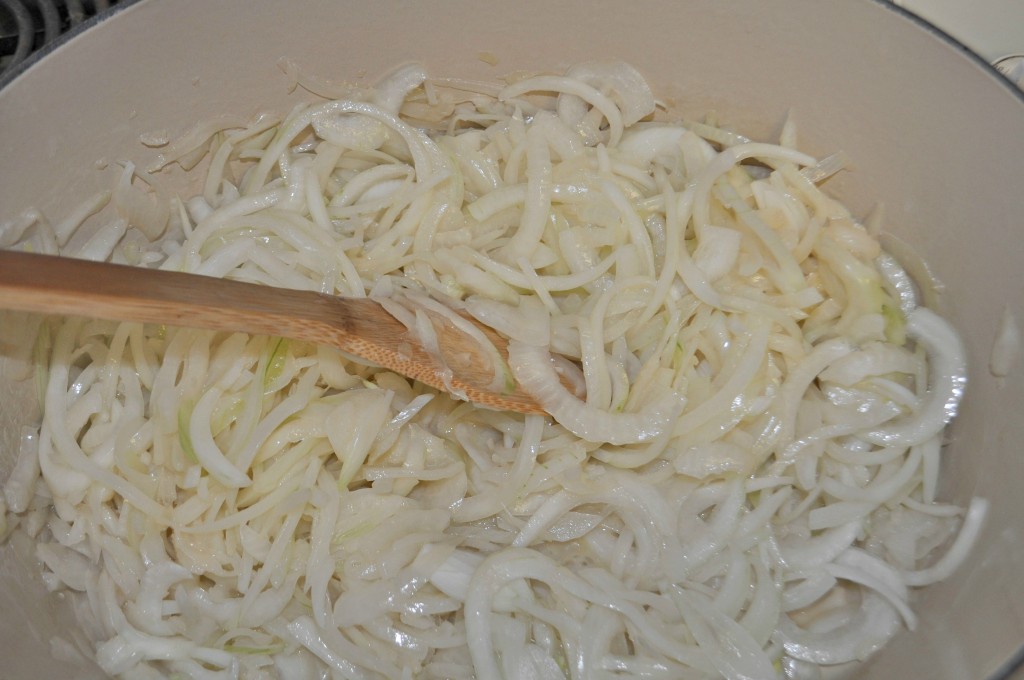 Saute the onions.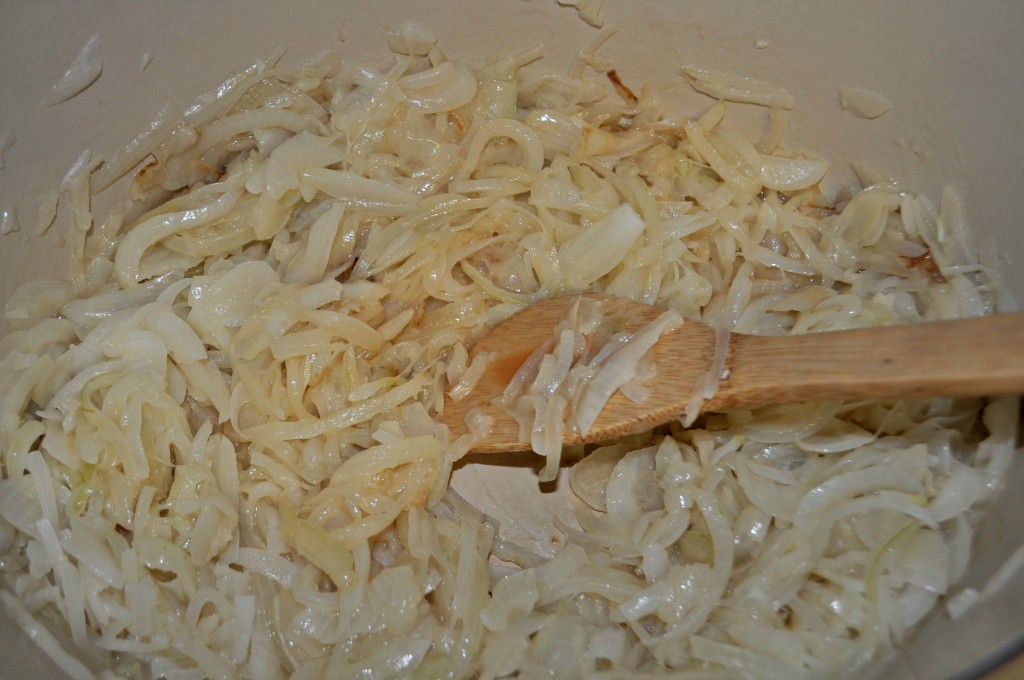 15 minutes later the onions will be cooked, clear and translucent.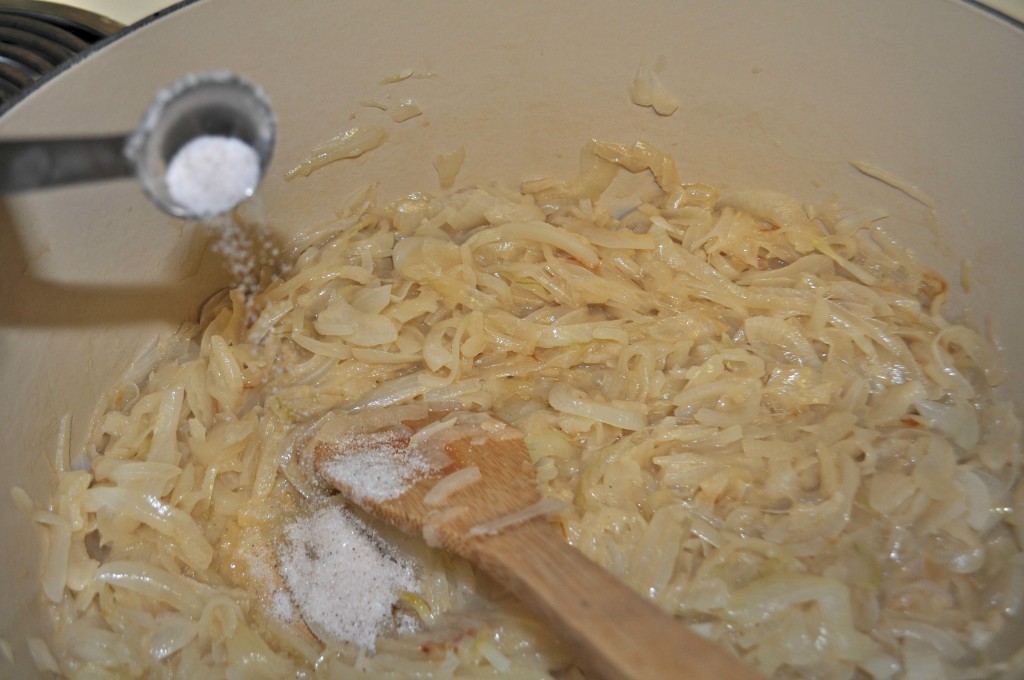 Add the sugar and salt.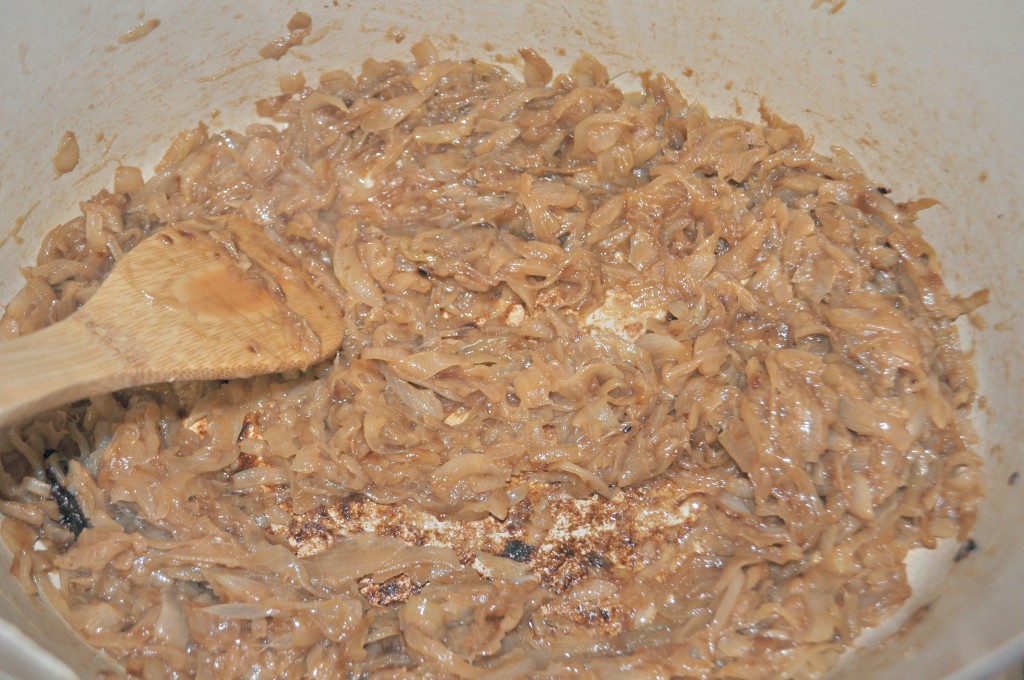 Increase the heat and cook for thirty more minutes until the onions are a dark, walnut color.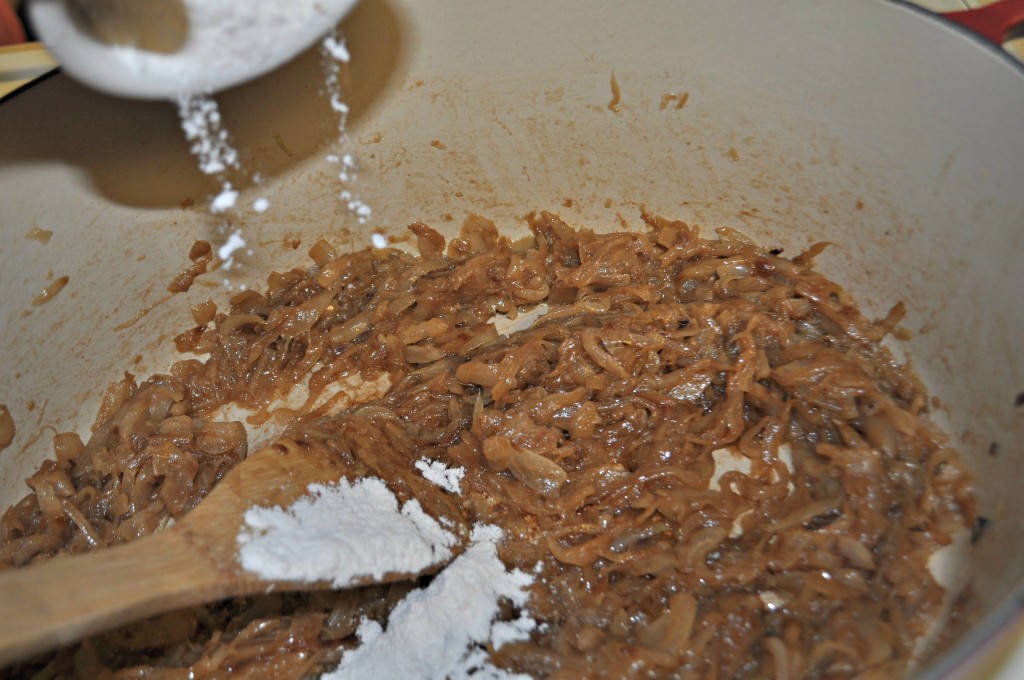 Add the flour and cook 3-4 more minutes.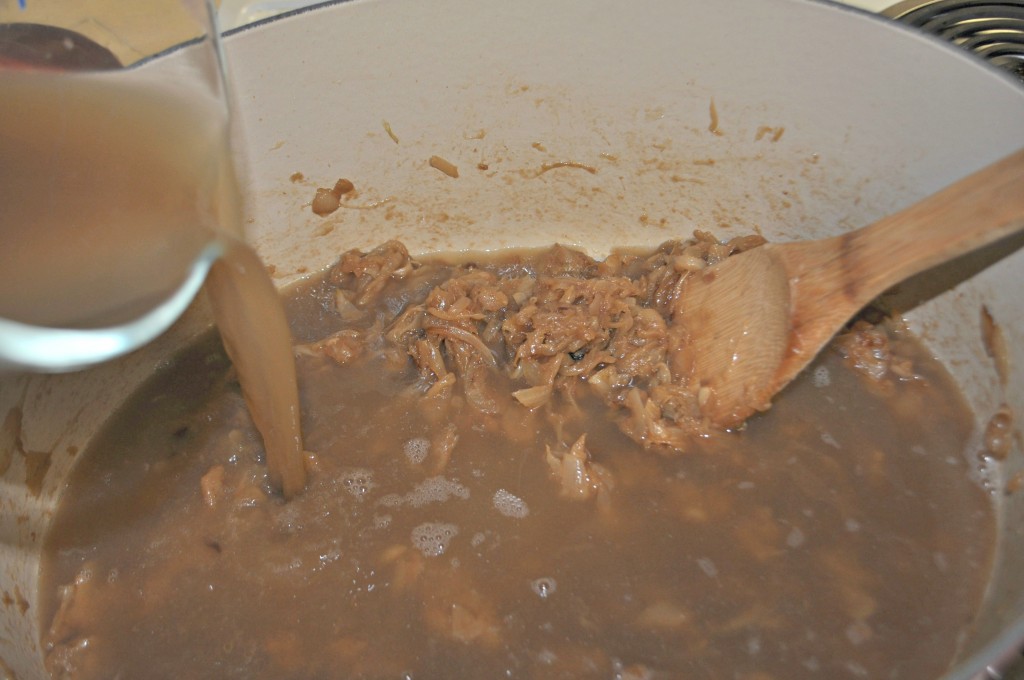 Remove from the heat and add 4 cups of hot stock.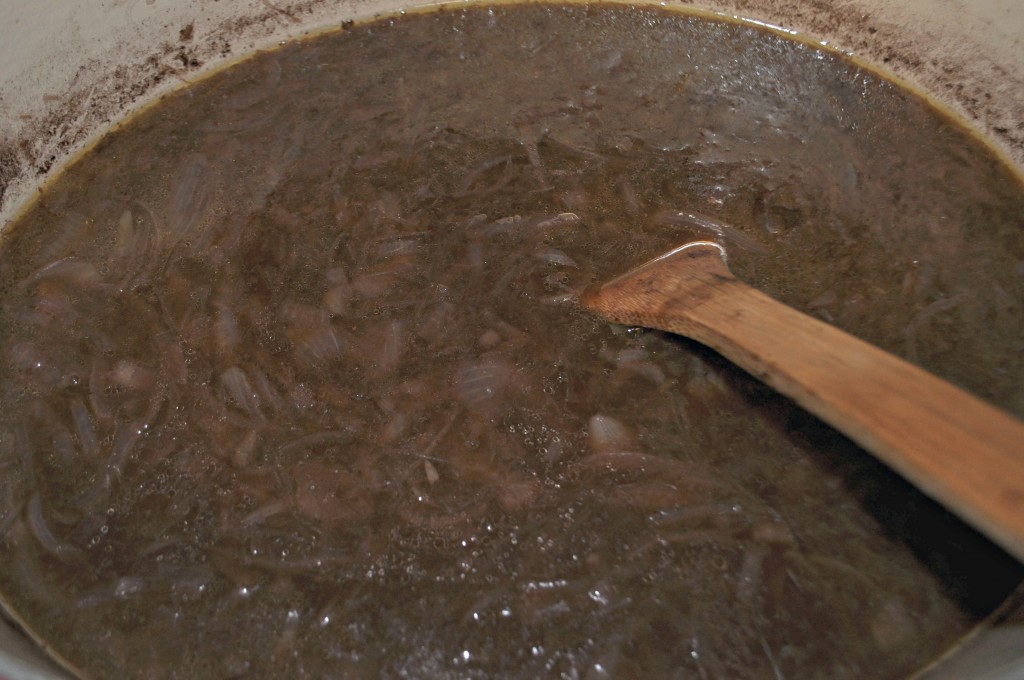 Bring to a simmer, add the rest of the stock, the cooking wine and the brandy.  Cover loosely and simer for 1 1/2 to 2 hours adding water if reduces too much.  Taste for seasoning.  I added a bit of beef bouillon to give the soup extra flavor.
Serve as directed.  I do not have oven safe bowls so we toasted the sliced baguettes in the oven with the shredded Gruyere then added additional cheese when serving.