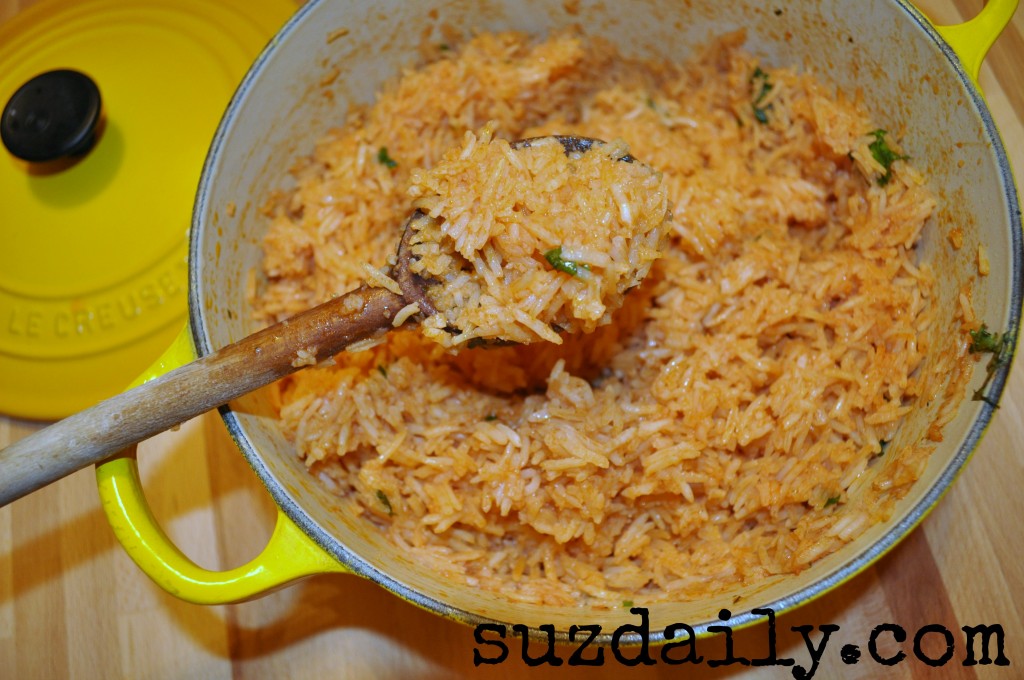 I learned how to make this dish while living in Mexico City.  It is a staple in our home and is great as a side dish for any Mexican themed dinner.  In Mexico fresh roma tomatoes are flavorful, plentiful and inexpensive, so they were always used in place of the tomato sauce listed in this recipe.  One pound of fresh tomatoes blended whole with about a quarter cup of water can be used instead of the canned tomato sauce.  If desired reduce the amount of olive oil.  If you plan on using less oil it is best to cook the rice in a large nonstick pot.  This can also be cooked with sauteed and diced carrots, onions or potatoes.  In all cases, do not change the water/rice ratio when adding vegetables.  I use whatever long-grain rice I have on hand.  When I prepared Spanish rice this week I used basmati rice.  For convenience I am preparing my Spanish rice this week with water and knorr chicken bouillon.  If available I used homemade chicken broth to boost the nutritional value of this dish.  This is a large family size recipe, feel free to half the quantities listed.  Preguntas?  Enjoy!
Spanish Rice
2 cups long-grain rice (rinsed to remove excess starch)
4 cups water
4 Tablespoons extra virgin olive oil
4 teaspoons Knorr chicken bouillon powder
8 ounces canned tomato sauce
cilantro, as a garnish
Rinse uncooked rice in cool water to remove excess starch.  Warm olive oil in a large pot.  Carefully add the rice and saute in the oil.  When the rice is slightly golden add the water, chicken bouillon powder and can of tomato sauce to the saucepan.  Bring to a rapid boil.  Reduce the heat to low, cover the pot and cook on low for 10-15 minutes or as long as directed on the bag of rice.  After 10 minutes I usually stir the dish gently and check to see if the rice needs more water for cooking.  If the rice is undercooked and has very little cooking liquid add a quarter cup more water.  If the rice is cooked sufficiently but there is excess liquid remove the lid and stir on very low heat allowing the water to evaporate.  Garnish with chopped cilantro before stirring.
Keep reading for more photos and details as to how to cook Spanish rice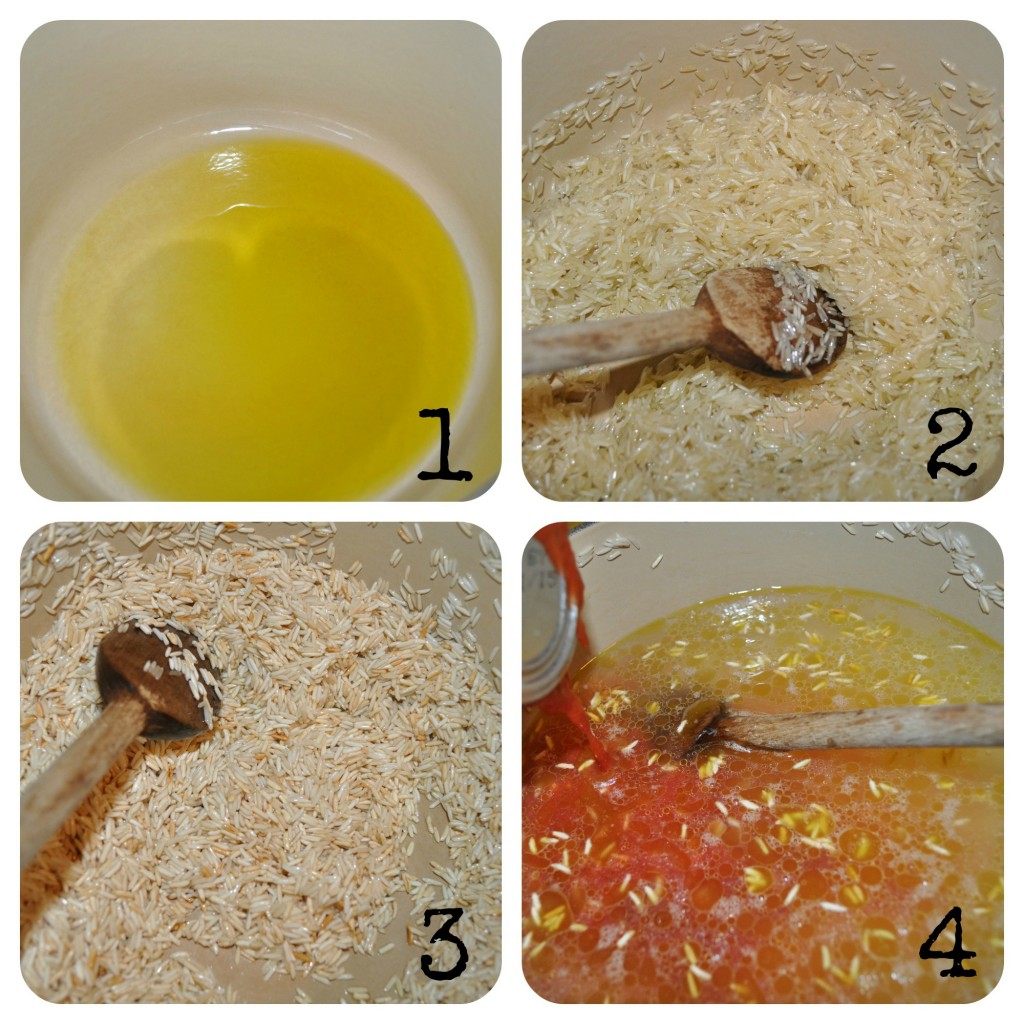 Step 1:  How to make Spanish rice: Fry uncooked rice.
As shown above begin by heating the olive oil (1).  Canola or vegetable oil could also be used for this recipe.  After rinsing the rice add to the hot oil (2).  Saute until some of the rice is golden brown (3).  Some restaurants blacken their rice during this step to add a smoky flavor to the dish.  After the rice is fried add water and chicken bouillon.  Chicken or vegetable broth could also be used.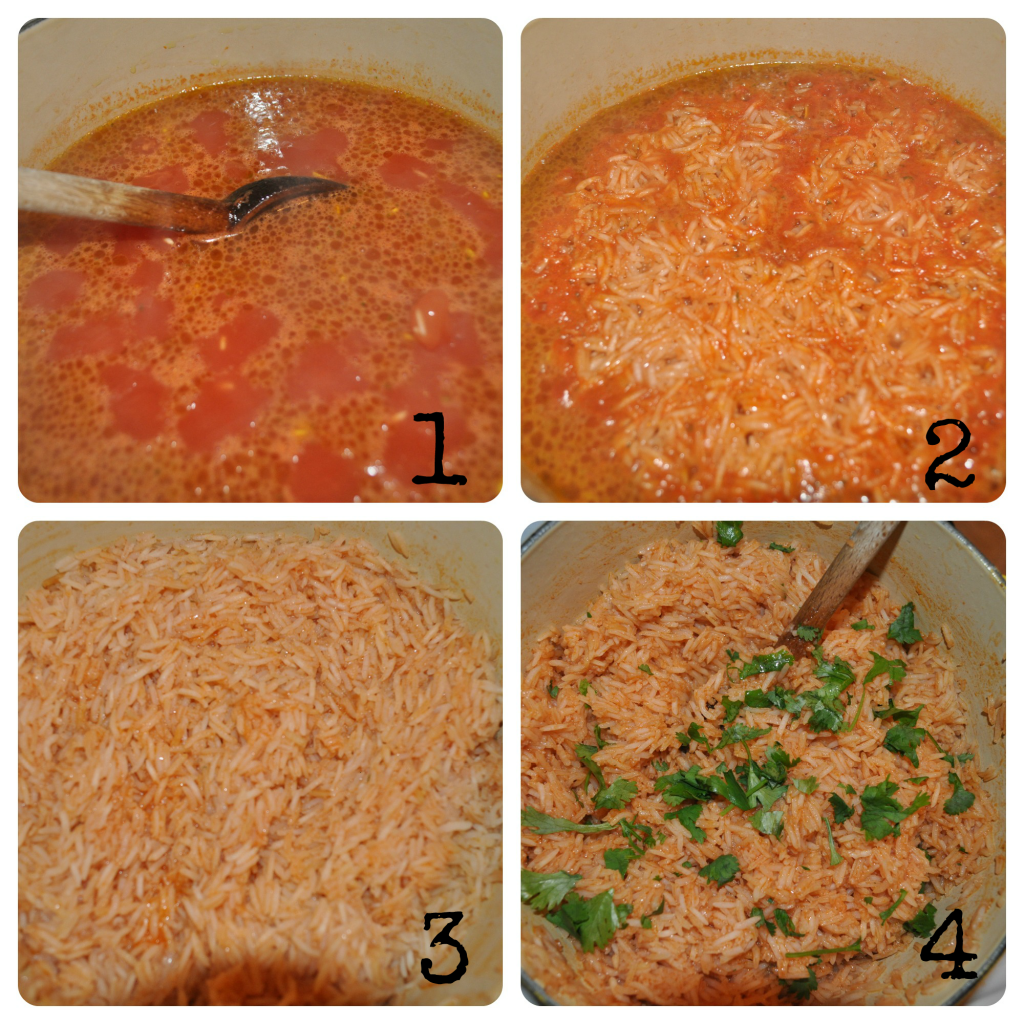 Step 2: How to make Spanish rice – Bring liquid to a boil and cook on low heat.
Once you have added the liquid to the rice stir constantly and bring the mixture up to a rapid boil (1).  Reduce the heat to low and cover to cook.  Set a timer for 10 minutes.  Check rice to see if it is thoroughly cooked.  In photo 2 I noticed the water was almost completely absorbed but the rice was not fully cooked so I added an additional 1/4 cup water and allowed the rice to cook longer.  After 15 minutes total the rice is cooked through and most of the water has evaporated (3).  Fluff rice with a fork and garnish with cilantro.