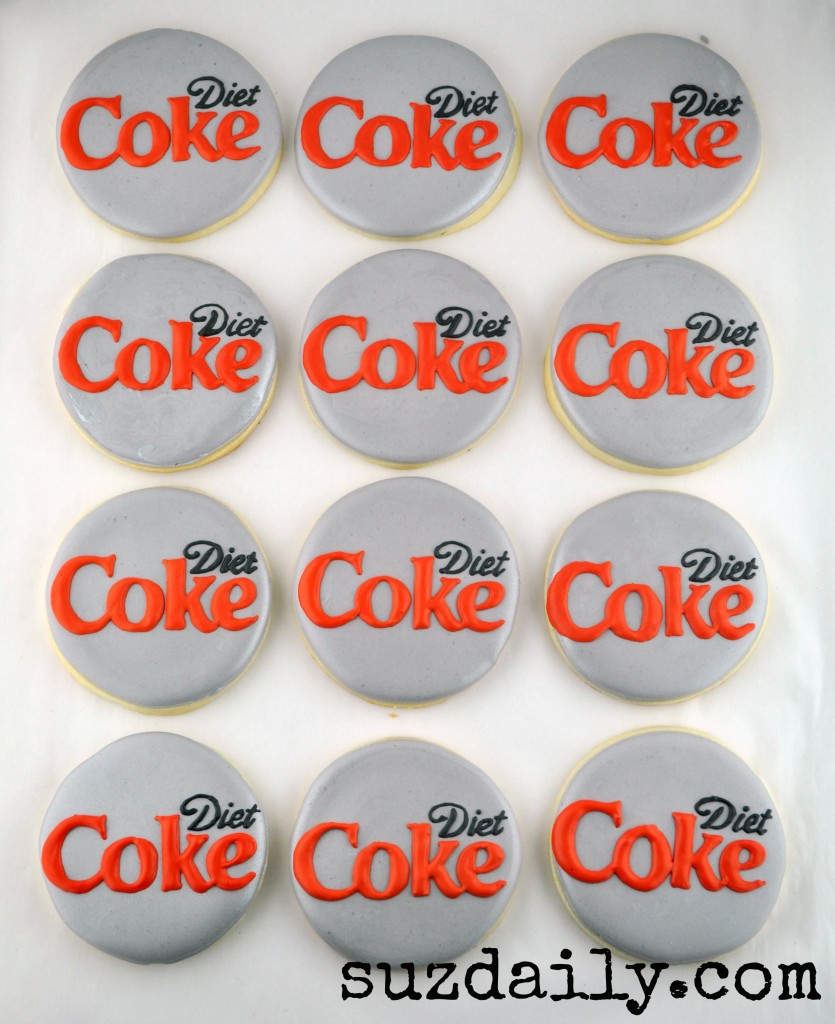 Confession time.  So many people ask me how I find time to decorate cookies with five kids ages 8 months to 12 at home.  Actually I really don't have time to decorate cookies.  What I do have is Diet Coke!  And the hours of maybe 10:30 pm – 2 am once or twice a week if I am lucky and if sweet little baby girl decides to sleep through the night that time is mine.  All mine!  I just need a little help from my BFF – Diet Coke.  I have a problem.  I admit it!  I am a Diet Coke addict.  Is there a 12 step recovery program for this??  If so, I am totally signing up in 18 years when my youngest moves out of the house.  So Diet Coke recovery program I will see you in 2032ish?  I will be old!  Wait, my baby will be 18!  And no more Diet Coke?!  Sad, sad, sad.  Never mind the 12 step Diet Coke recovery program can wait.
So where am I going with this?  Oh ya, I was making these Diet Coke cookies for a friend and my sister Cathy asked me how many ounces of Diet Coke I drink for every Diet Coke cookie decorated.  I think it was 1 ounce Diet Coke for every one Diet Coke cookie I made.  Such a nice ratio.  I actually loved making 36 of these, and sipping about 2/3 of my 44 ounce tanker.  Very fun!  I don't think I would be able to make a Diet Pepsi Cookie.  GAG!!!
Keep reading to see how I made these Diet Coke Cookies.
The Diet Coke cookie was born at CookieCon – yes!  A cookie decorating conference.  I went to a cookie decorating convention here in Salt Lake City.  Call me cray cray.  I don't mind.  I can take it!  Anyhow  I was sitting at a table with a bunch of Utah girls and more than half of us had a Diet Coke next to our bags of icing and plates of cookies.  I really lack in creativity.  I do.  I'm just a kopykake cookier.  I really doubt I have made something 100% original, but I'm working on it, I am, I promise.  Please assure that creativity will come in time.  Well I took apart my bottle of Diet Coke for a template and made my first Diet Coke cookie.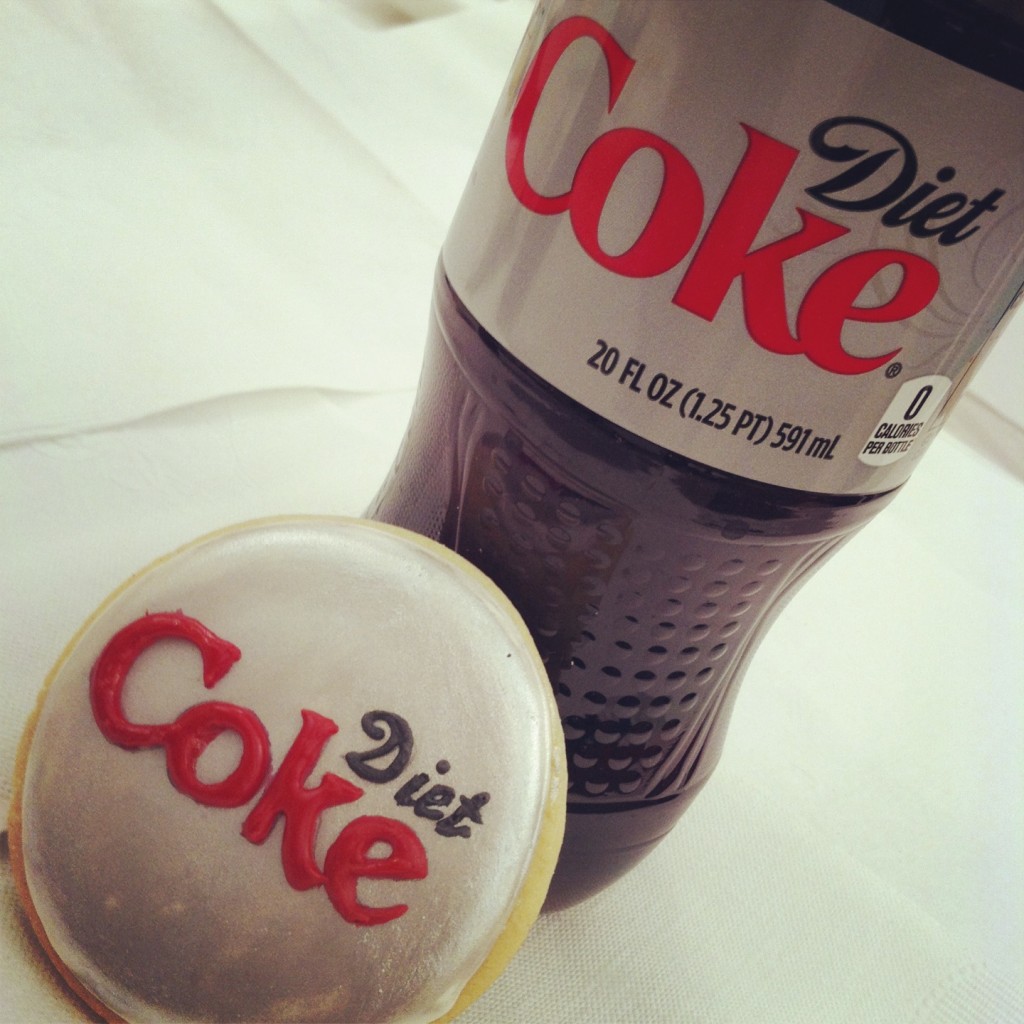 It's a bit sloppy, but I used a couple of napkins for the background and the best instagram filter I could find to improve the picture.  The "Diet" lettering is so tricky!  A friend saw this and wanted some for a "favorite things" bridal shower so I was given a second shot at the Diet Coke Cookie.
Step 1 : How to Make Diet Coke Cookies – Bake the cookies
Use whatever recipe is your favorite!  I am using my preferred sugar cookie recipe, found here.  Make sure you freeze the cut out shapes before baking so that the circles remain circle during the baking.  I decided to make the cookies about 3.5 inches – a bit larger than normal because I knew how difficult it would be to add the "Diet" onto the cookies.
Step 2 : How to Make Diet Coke Cookies – Prepare the icing
For these cookies I used Royal Glaze icing.  The recipe for royal glaze icing is found here.  You could also use regular royal icing.  The recipe for Royal icing is found here.
The following icings need to be prepared (at least one day in advanced if possible so the color has time to develop)
Black icing – thinned to outlining consistency (soft peak stage), placed in a bag with a PME size 0 tip, or the smallest tip you can find.
Gray icing (mix just a dot of black icing into white icing) – thinned to outlining consistency (soft peak stage) placed in a bag with a size 2 tip
Gray icing – thinned to flooding consistency (like honey) and poured into a plastic squeeze decorating bottle
Red icing (tulip red with just a drop of black icing added) – thinned to outlining consistency (soft peak stage) – placed in a bag with a size 1 tip.
Red icing – thinner than outlining consistency (like molasses) – for flooding the letters on the cookie
Once icing is ready and cookies are cooled you are ready to decorate the Diet Coke cookies.
Step 3 : How to Make Diet Coke Cookies – Decorate the cookies with icing
Now is the fun part!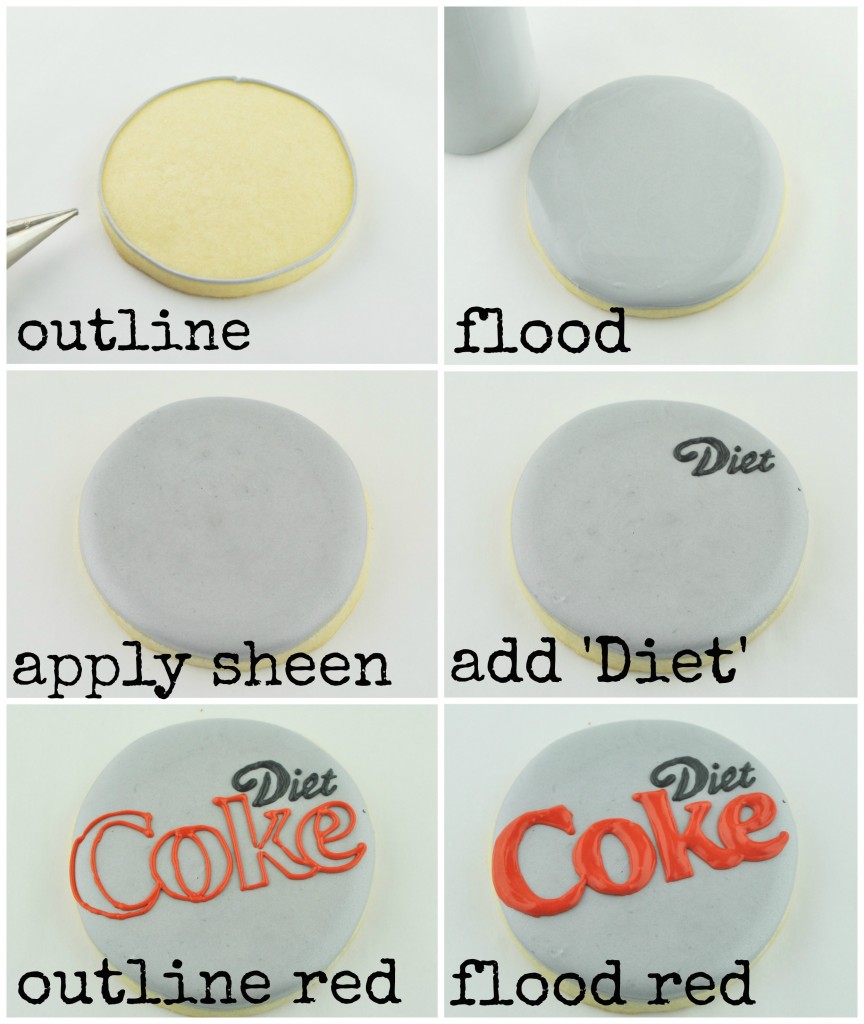 Start by outlining the cookie with gray icing.  Make sure to outline to the edge of the cookie if you are going to use an airbrush or spray later on in decorating.  Immediately pour the thinned icing onto the cookie and blend the thinned icing with the gray border.  If the icing is right it will smooth out on its own.  Allow the cookies to dry for at least 30 minutes.  Next add the gray sheen to the cookie.  I used an airbrush to spray the silver onto the cookie.  This was super fast!  If you do not have an airbrush you could buy a can of Wilton decorating spray.  The last method (which I wouldn't recommend) would be to paint on silver luster dust.  Mix some of the dust with lemon extract or vodka and brush onto the cookie.  I did this for the first Diet Coke cookie I made and the finish ended up lumpy.  Allow the top shine to set for at least 15 minutes.
From here I added the "Diet" to the logo.  This was extremely difficult.  Maybe it was my icing, or just the day, but I struggle to get this perfect.  Maybe next time I will try to paint the word "diet' on because it was awful to add using a piping bag.  Next outline the "Coke" logo with a small decorating tip.  Immediately add the thinner icing to the letters and blend any bumps with a toothpick.  Allow the cookies to dry and that is it!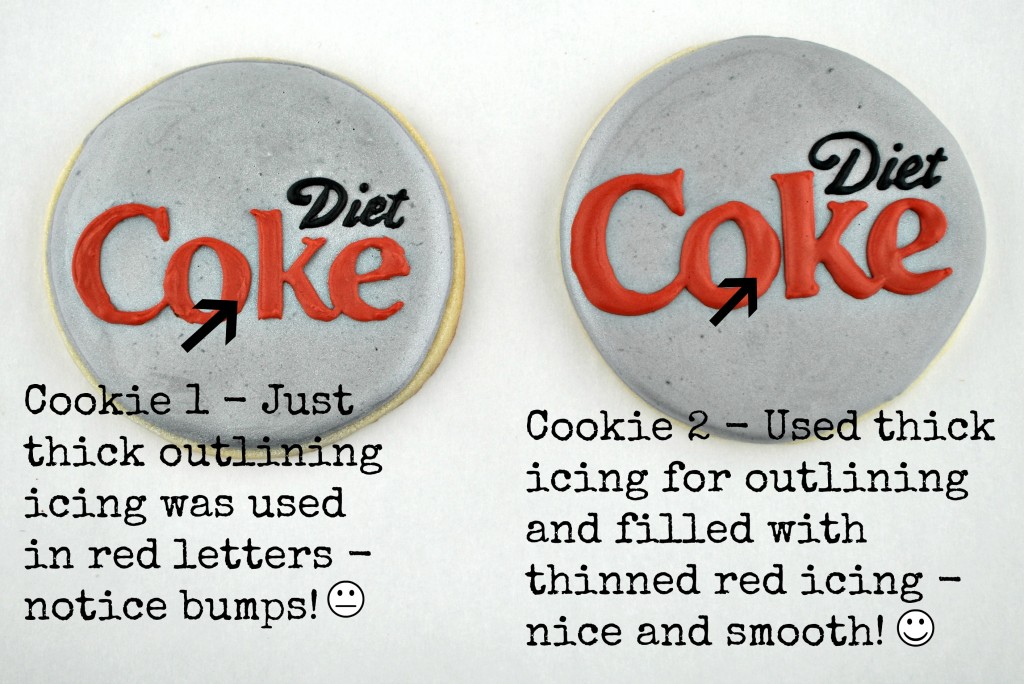 A note before I finish rambling.  Yes I know the picture above is totally over-exposed but I wanted to show the details.  And someday I will figure out how to set the white balance on my camera.  Anyhow – the first cookie I made I used all outlining (soft peak) consistency icing for the word "Coke."  I like the way it had crisp edges, but I did not like how it dried so quickly that I couldn't smooth out the bumps.  It also took a LONG time to carefully fill in those letters.  On the second cookie I decided to thin some of the red icing for flooding each individual letter.  Not only did this save time, but it also made for smooth lettering.  What do you think?  Which do you prefer?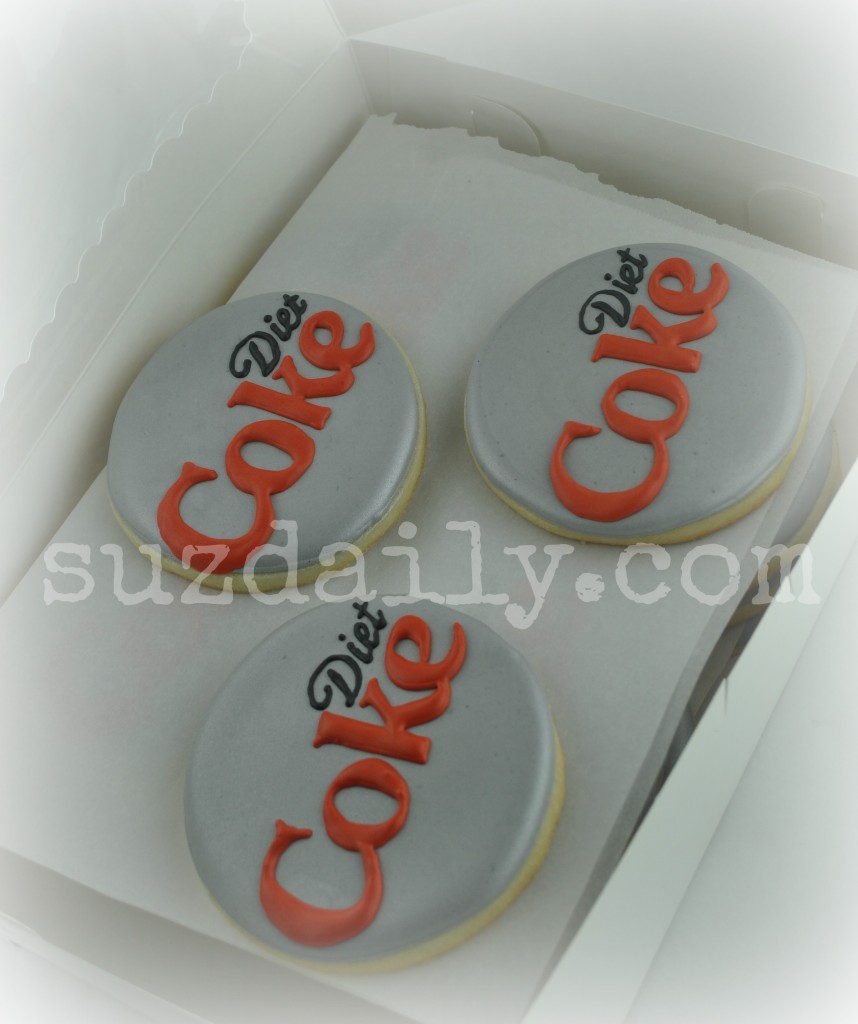 Here are a few of the cookies boxed up and ready to go!
This post is dedicated to my favorite soft drink – DIET COKE – my friend Suzi my brother Rick, my sister Cheryl, my sister Becca, my sister Bina, my sister Cathy, and her friend Allison D.