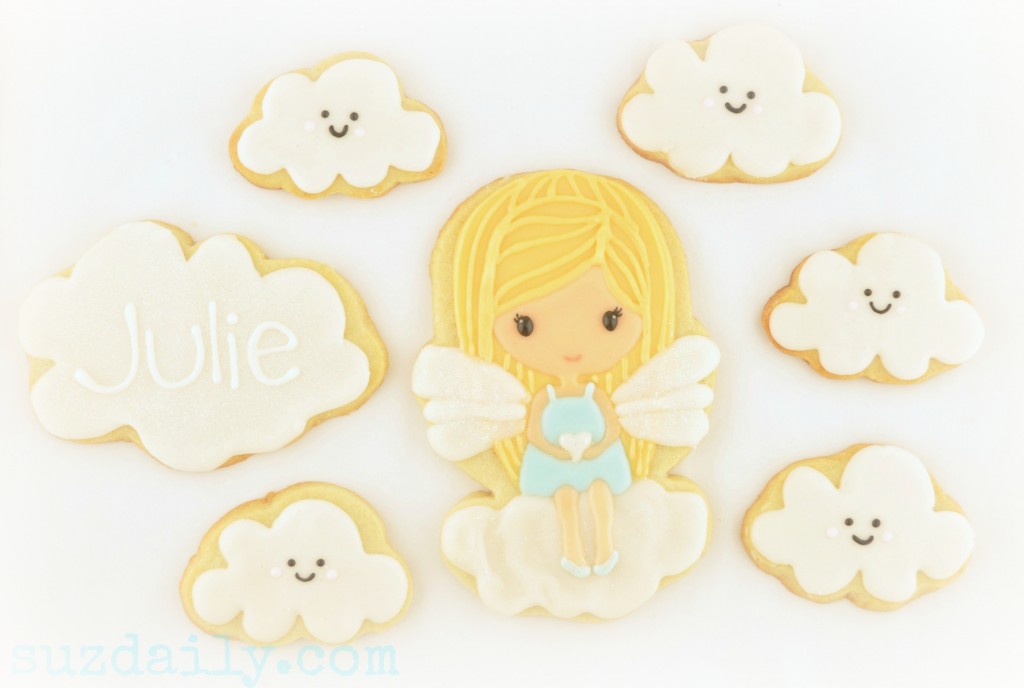 "I can feel the brush of angel wings.  I see glory on her face."
Cookies for my sister Julie.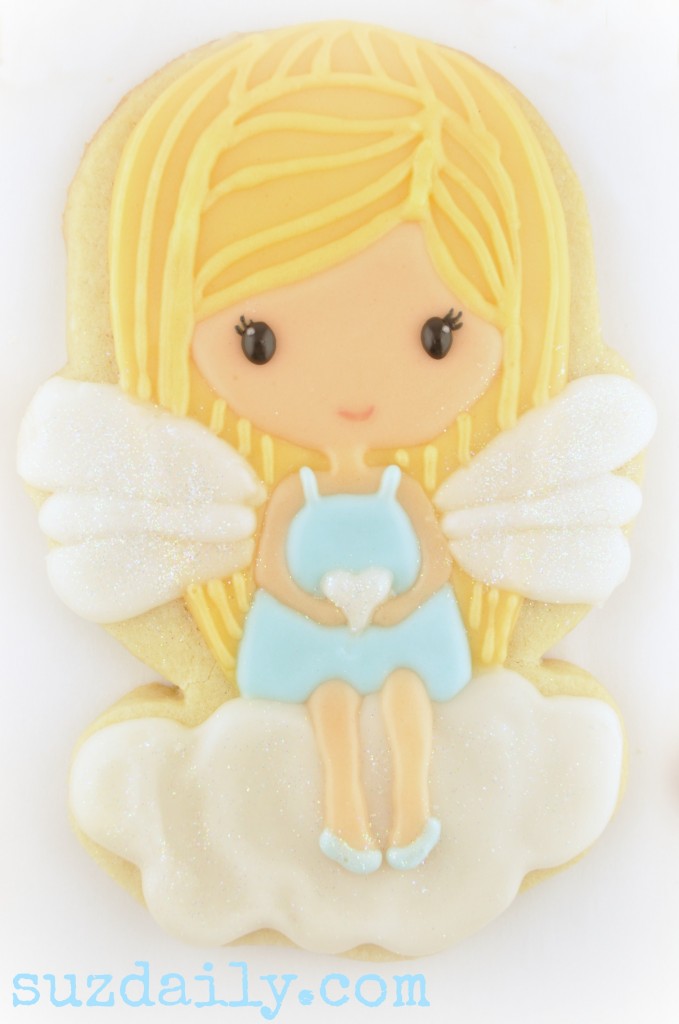 "You'll be in my heart – always"
Today we are honoring Anita, of Sweet Hope cookies.  She is a talented cookie artist who has devoted her life to raise awareness and funds for those struggling with ALS.  She has passionately supported the ALS foundation ever since her brother was diagnosed with the illness and lost the battle with the disease three years ago today.
Following Anita's example, I created this set of cookies in honor of my sister Julie.  At the age of 16 Julie was diagnosed with Hodgkin's Lymphoma.  She fought hard, endured many painful procedures but lost this battle with cancer two years later, on April 20, 2000.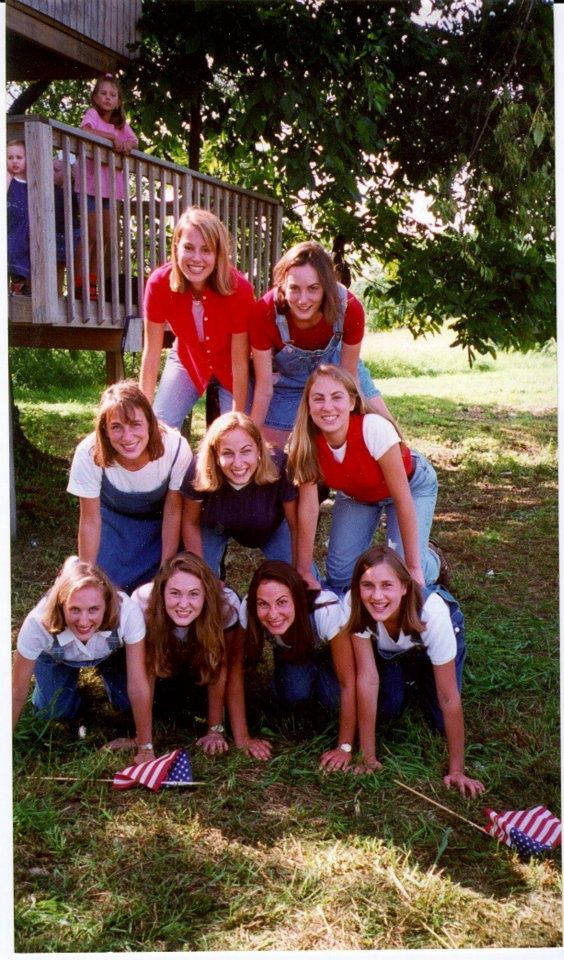 I am the 12th of 17 children – I am so blessed to have 8 sisters – Julie is in the middle row on the far right.     Here we are all pictured together .  Summer, 1997
I can not believe it has been fourteen years already.  I will not forget a moment of the her physical trial.  More than anything, she was an amazing example to those around her as she kept a positive attitude through it all.  Once she said, "I have cancer, but it's really not that bad."  When we went to her pediatric oncology appointments she was so concerned about the younger kids around her.  She reached out to them, cheered them up and did whatever she could to help these sweet little kids.  During her remission she spent her summer vacation planning A Relay for Life event honoring her close friend, Alexandra Graham, who passed away after her fight with cancer.  She remained cheerful and positive even after long stays in the ICU.  As her body failed, her spirit grew stronger and she found the strength to buoy up those around her.
"Happiness is having a sister." Reunion, Spring 2000.  
The last time all of my sisters were together.  From Left to right, top to bottom, Julie, Cheryl, Emily, Suzanne (me), Cathleen, Alison, Rebecca, Mary and Christina.
I miss her immensely.  I miss her laugh, her beautiful smile and her bright blue eyes.   I wish we could go hunt for Beanie Babies again like we did in the summer of 1998.  I wish we could walk around the mall for hours looking for that perfect pair of shoes.  I wish I could hear her make fun of me for my cookie obsession.  I wish she could meet all 81 of her nieces and nephews.  I wish we didn't have to say goodbye.
These cookies show how I like to think of my little sister now.  She is our family's radiant guardian angel and I know she is smiling down on all of us.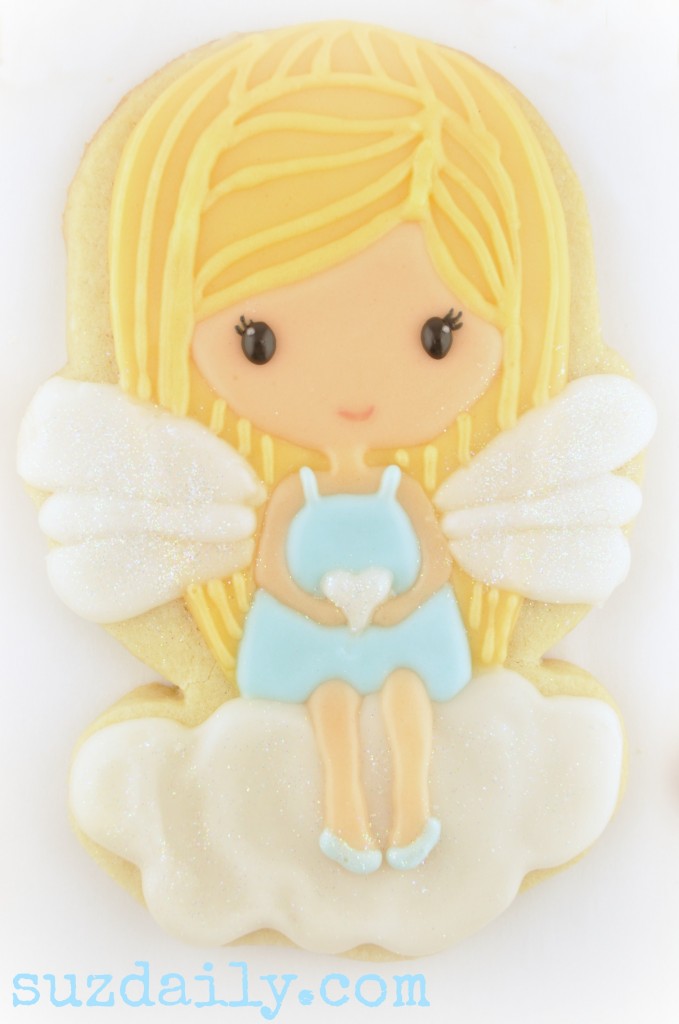 As to the cookies, I used glaze this time, to get a more thin, transluscent look.  Royal icing seemed to heavy and bold for this project.  If I tried to recreate these cookies, I may not be able to.  I made them late at night and I was thinking more about my sister than the colors and layers of icing.  The happy cloud design came from sweetopia.net – you can find a tutorial on her website for adorable cookie pops Marian made using this design.
These angel cookies for my sister Julie were part of a collaboration organized by Georganne, creator of Lilaloa.  Please look at the other cookies in this series as we all honor Anita.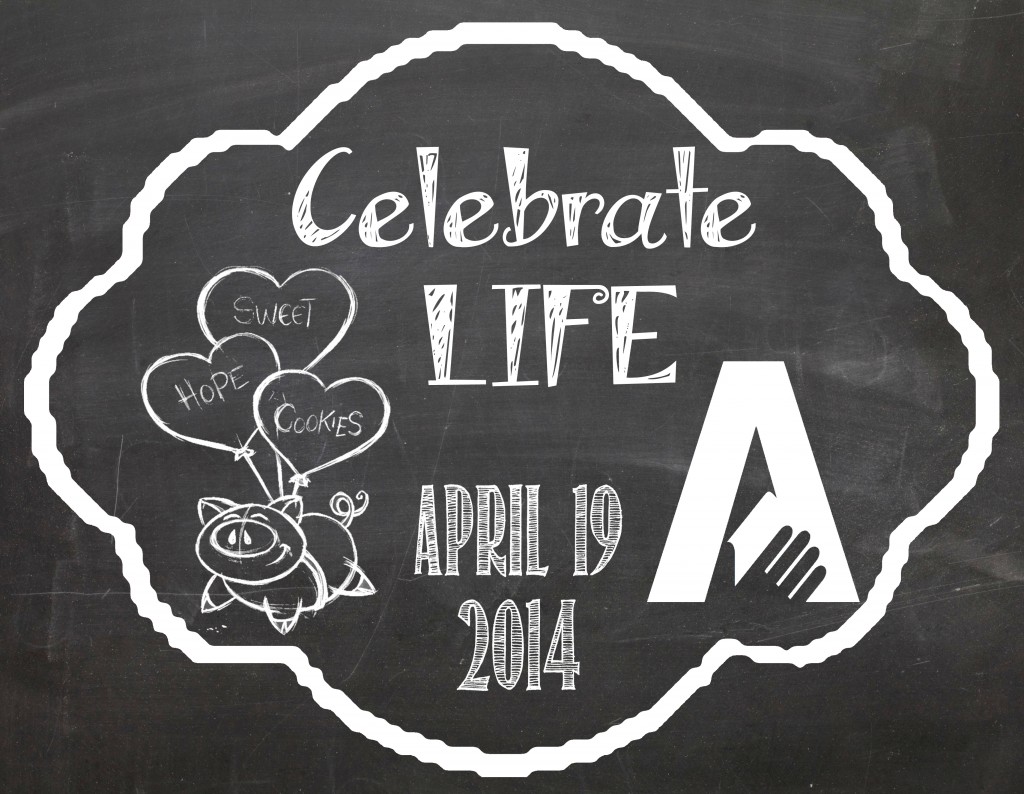 Anita from Sweet Hope Cookies started making cookies to raise awareness and funds for ALS. Her generosity and love inspires all she interacts with to be better, love better, and live better. Today we honor Anita as she remembers her brother Randy, with stories of the people in our lives that inspire us the most. Please join with us by sharing this photo and YOUR story. Follow the love with #CelebrateLife "
You can find me on facebook as Sweets by Suz
Keep up to date instagram @suzdaily