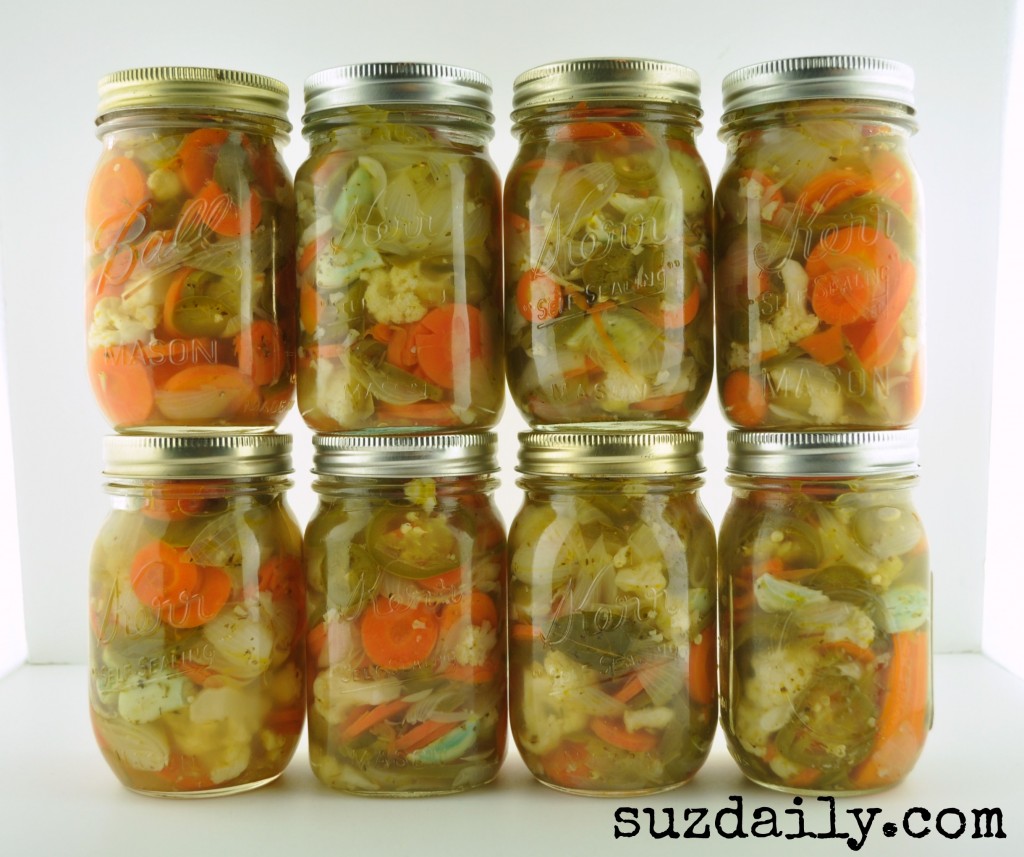 Oh delicious escabeche!  My kids are all addicted to you!  I didn't even know what this was called until a few years ago.  Back 14 years ago we lived in Houston I was working long hours in a Molecular Genetics lab and there was no time to eat dinner.  At least once a week we ate fajitas at Ninfas.  Before bringing out the food, they served  chips hot out of the fryer with fresh salsa, like my avocado tomatillo and quick pico de gallo.   Alongside the chips they brought out zanahorias en escabeche.  I can honestly say we filled up on chips, salsa and spicy carrots before eating the fajitas with homemade tortillas. Little Juju started eating these spicy carrots and jalapenos before she even had teeth.  It's no wonder she is able to drink the juices now.  Finally I took a few photos during the process so I can refer friends and family to this post when they want to make it at home.  We can easily go through 3-4 pints of this a week.  I love it with Mexican food (of course) but also on turkey sandwiches or lettuce wraps if I am in diet mode.
The recipe is not exact, just a general guideline.  At the end of the post I have scanned a cherished hand written recipe from a wonderful Abuela we knew in Mexico City.  She used to sell this in an open market and was kind enough to give me her recipe and show me how she made it.  Juju, Zandy, Tilly, Timmy, & Lizzie, someday you will crave this – so here it is.  Most of the chopping is done quickly in the food processor.  When Scott makes this he cuts the vegetables ever so carefully, as did the Abuela.  I just don't have the time and the kids eat way too much of this for me to worry about perfection.  This recipe is how I now make it for my family with ingredients readily available in the US.  Change to your liking.  Reduce the jalapeno (increase carrots and cauliflower), or remove the veins and seeds if it is too spicy for you.
Escabeche
1/4 cup olive oil
1.5 pounds small bulb onions (you can use white onion instead with excellent results)
4 heads of garlic, peeled (this will yield about 30-40 cloves)
2 pounds carrots, sliced (about 8 extra large)
1 pound cauliflower in small pieces (about half a head)
1.5 pounds jalapeno, sliced and rinsed several times to remove seeds (about 15 large)
4 cups apple cider vinegar
2 cups water
2 Tablespoons sea salt
2 Tablespoons sugar
2 Tablespoons Italian seasoning
8 bay leaves
Start by chopping the vegetables.  Cut large onions into one inch pieces.  Small bulb onions should be cut with an "X" shape so the vinegar can penetrate the onion.  Do not worry about peeling the carrots before slicing.  They will be just fine simply rinsed and scrubbed clean.  Cut cauliflower into small pieces.  Rinse jalapenos, remove stems and slice jalapenos into rounds for spicy escabeche.  For mild escabeche cut into quarters and remove all veins and seeds.  Heat a heavy stock pot.  Coat pan with olive oil.  On medium heat fry bulb onions for about 5 minutes.  Next add the garlic and sliced carrots and cook for another 5-10 minutes, or until they are tender crisp.  Next add the jalapenos.  Stir gently.
Add the 4 cups apple cider vinegar, 2 cups water, sea salt and sugar to the vegetables and stir gently.  Allow to cook on low for about 10 minutes until the jalapenos are soft, but not over-cooked and mushy.  Last add the Italian seasoning and bay leaves.  Place in glass jars and store in the refrigerator until ready to serve.  Make 8 pints, plus a bit extra.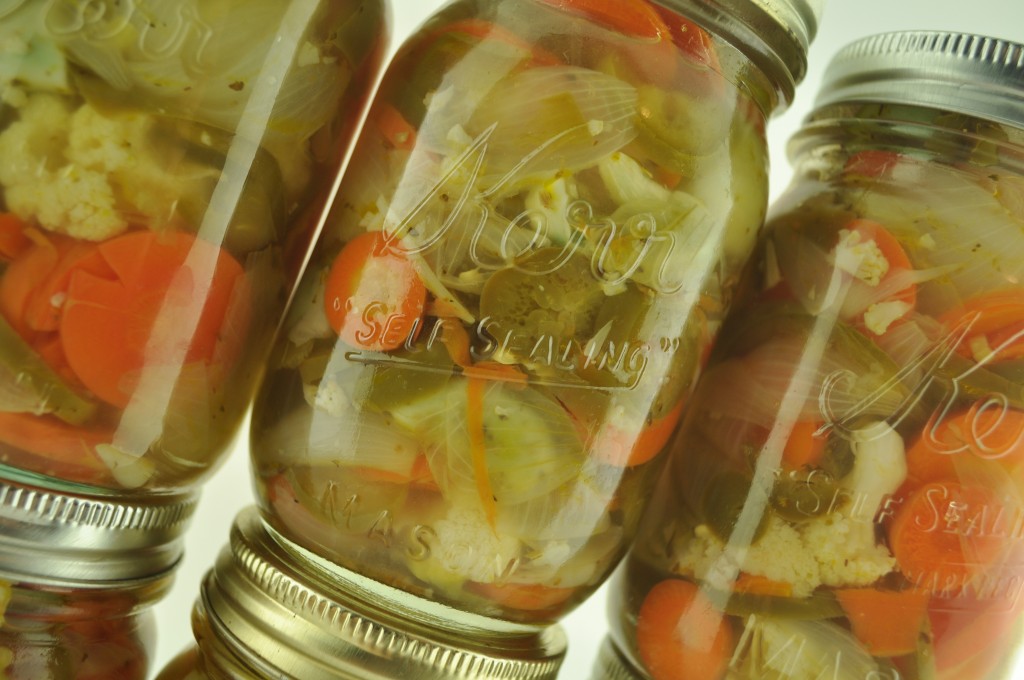 Keep reading for photo tutorial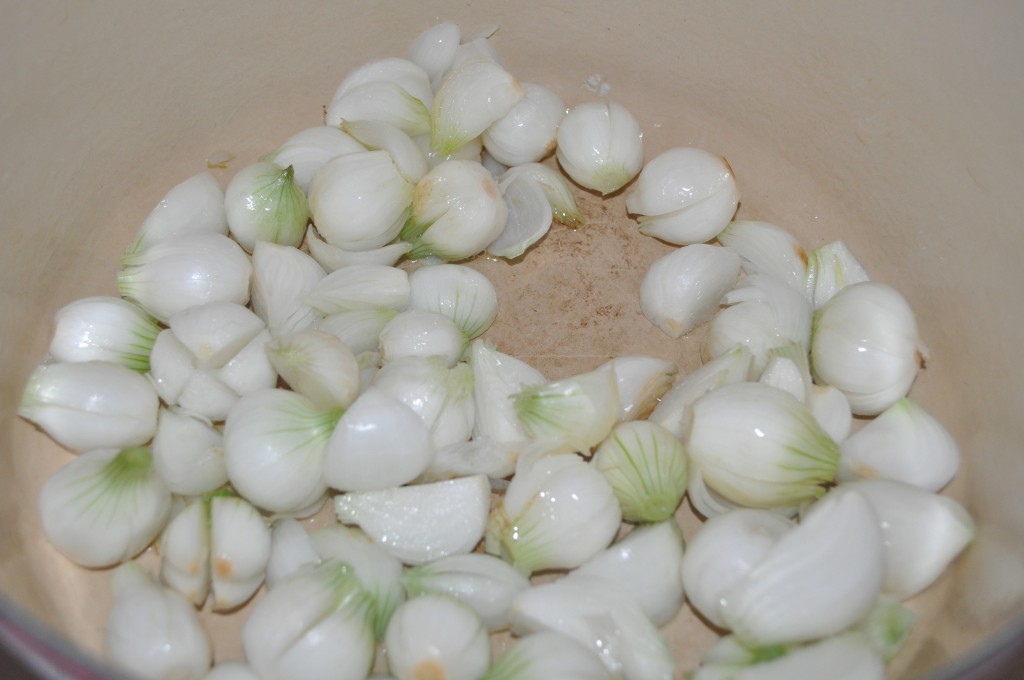 Start by frying the bulb onions in olive oil for 5-10 minutes on medium heat.  You don't want to burn the onions, you just want to soften them.  These were on sale this week!  If these small onions are expensive I just use white onion chopped in one inch pieces.  Notice that most of these onions are cut with slits in them so that the vinegar is able to penetrate the onions.  Add the garlic (not pictured)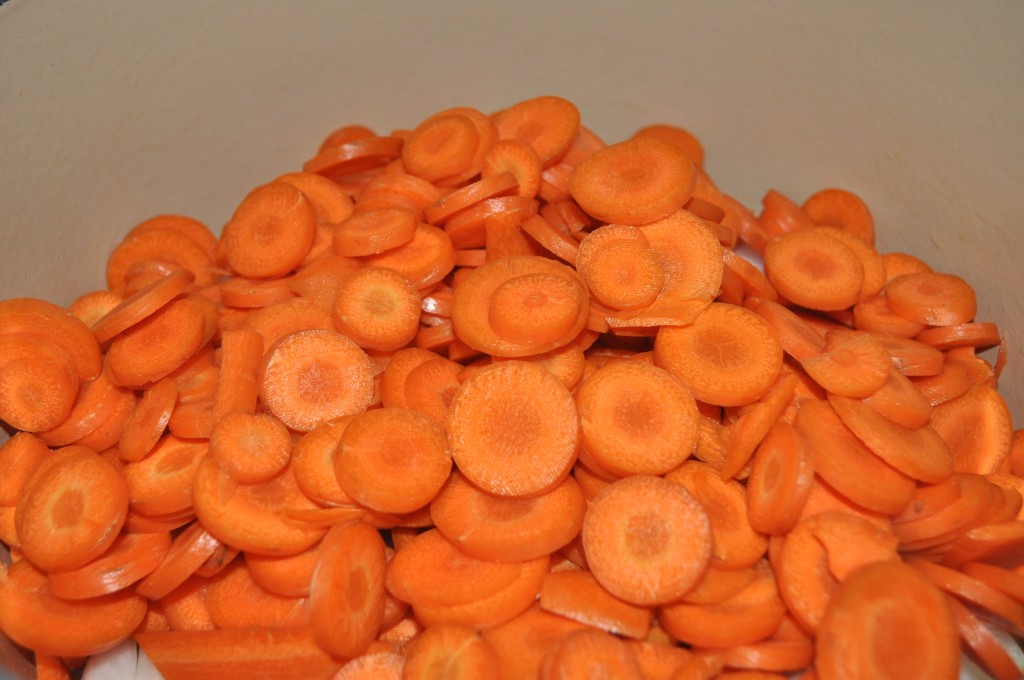 Next add the carrots and continue to cook for another 5-1o minutes until the carrots start to soften.  Note, I quickly cut these carrots in my food processor and left the skins on.  Really fast and efficient.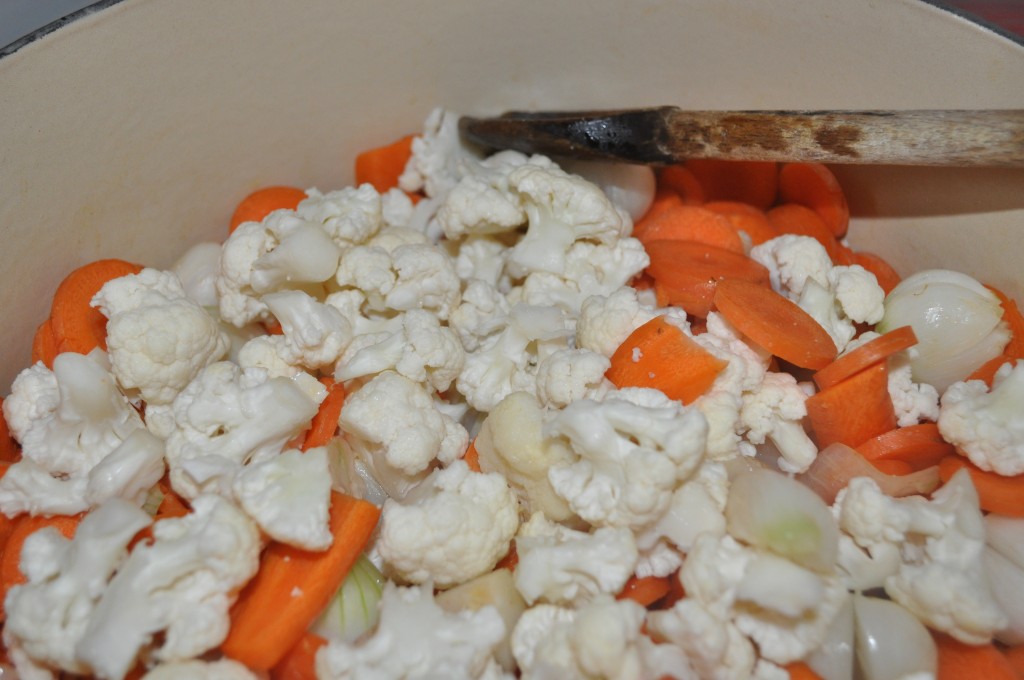 Next the chopped Cauliflower.  Gently stir and cook for 5 more minutes.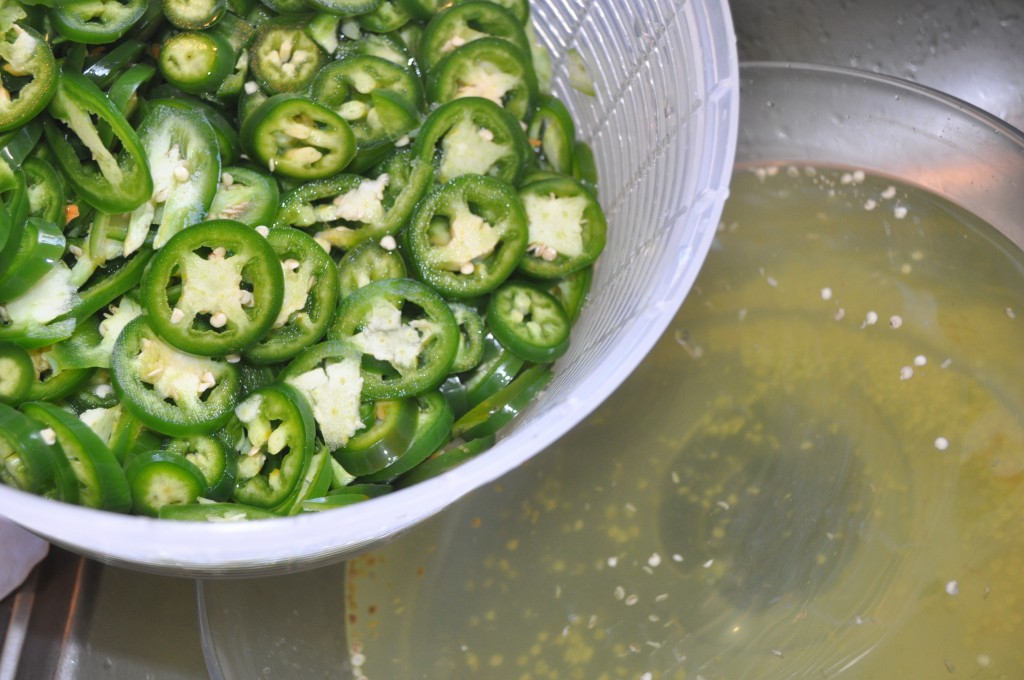 PLEASE READ BELOW BEFORE MAKING THIS AT HOME!
Now to the jalapenos — a quick little lesson about these spicy little buggers.  The heat of a jalapeno comes from the veins, not from the seeds.  The seeds are spicy by association with the veins.  We like our escabeche super spicy.  Still, I like the rinse the sliced jalapenos in my salad spinner several times to remove excess seeds.  It calms them down just a little.  Rinse them in something that allows the seeds to stay in the water as I did above.  If you want mild escabeche you will have to CAREFULLY slice the jalapenos into quarters and remove the veins and seeds.  This takes a long long time.  You have to be SOOO careful when handling a large quantity of sliced jalapeno.  I suggest the use of food service gloves for safety… and maybe even goggles.  You do not want to touch sliced jalapenos with you bare hands, then you might touch your eyes (ouch!) or people or other things…  I did my slicing by an open window.  And even with that my eyes were burning as if someone came after me with pepper spray.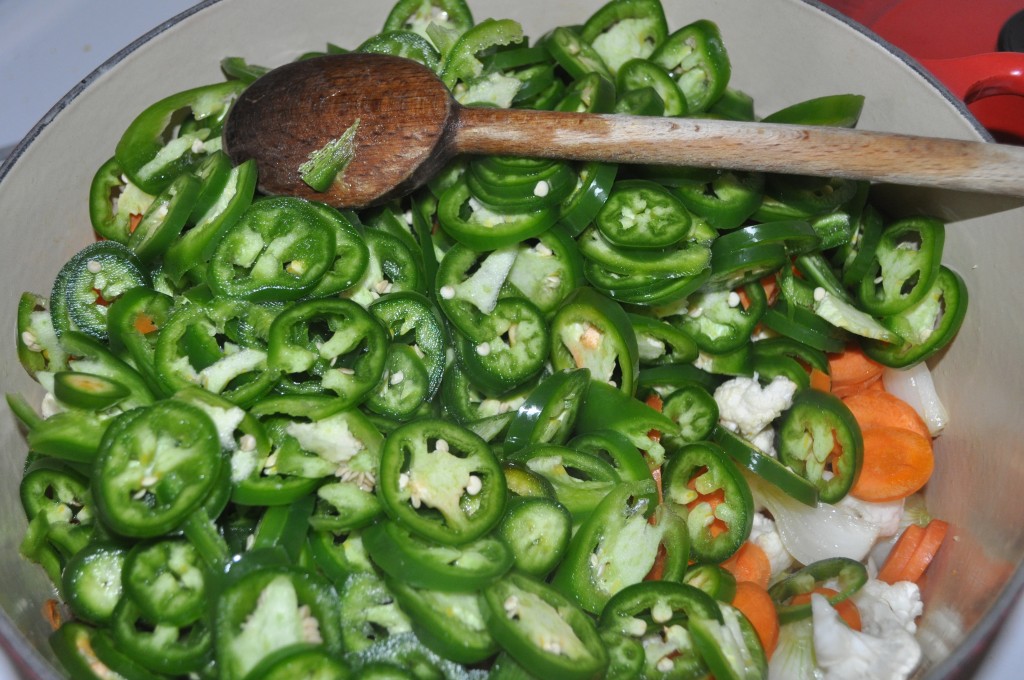 Add the sliced jalapenos – CON CUIDADO!  Add the apple cider vinegar and water, salt and sugar bringing the mixture to a gentle boil.  Cook for about 10 minutes or until the jalapenos are soft.  Not mushy, just soft!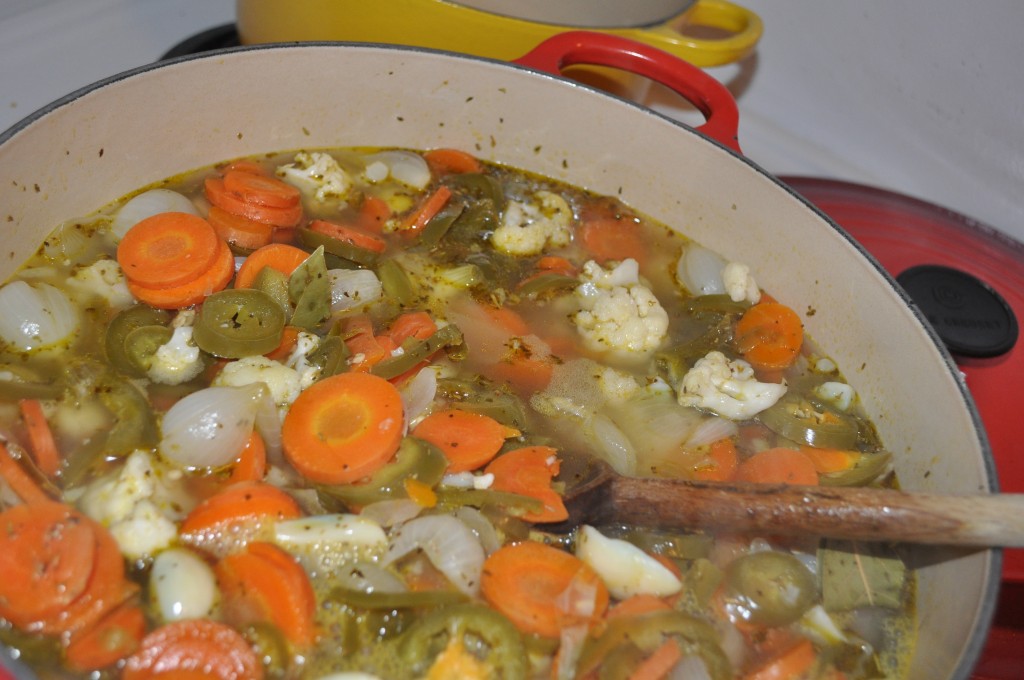 Very last, add the Italian seasoning and bay leaves.  Transfer to mason jars and store in the refrigerator.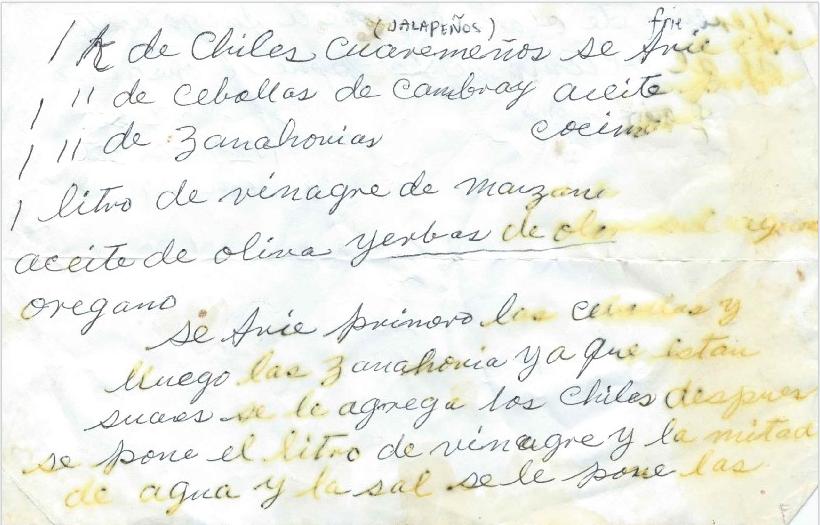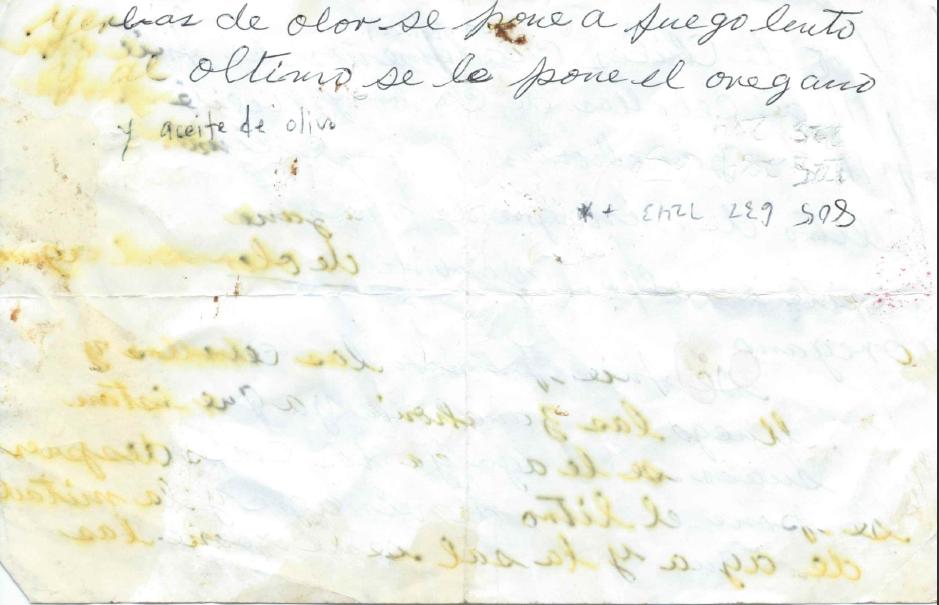 Original recipe card… yes it has been through a lot!
Escabeche
1 Kilo de chiles cuaresmenos (jalapenos) se frie con aceite
1 Kilo de cebollas de cambray
1 Kilo de zanahorias
1 Litro de vineagre de manzana
Aceite de oliva, yerbas de olor, sal, agua (500 ml), oregano
Se frie primero las cebollas y luego las zanahorias ya que estan suceres le agrega los chiles despues se pone el litro de vinagre y la mitad de agua y la sal se le pone las yerbas de olor se pone a fuego lento y al ultimo se le pone el oregano.
(note in Mexico a bunch of dry herbs is sold at markets and reffered to as hierbas de olor – this is usually a mix of bay leaves, thyme, and sometimes rosemary).