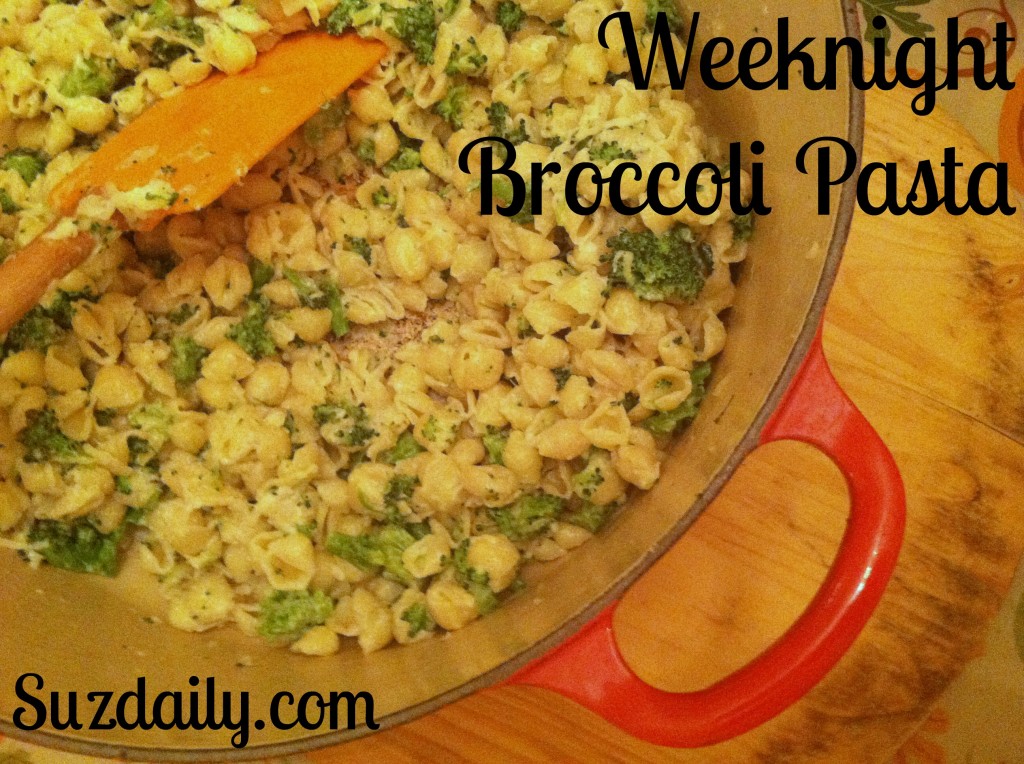 This dish is a favorite for busy weeknights… definitely a step above macaroni and cheese.  I love that I only dirty two dishes when preparing this meal.  It can be served as a main dish or a side dish.  Add grilled chicken, or serve with rotisserie chicken and you have a more complete meal.  The key to preparing this is to ever so slightly under-cook the broccoli and pasta before mixing them with the cream and cheese in the pot.  As you mix in the cheese and cream the broccoli and pasta will continue to cook in the heated pot.  This is delicious cream version; if you do not have cream use butter.  If desired leave out some of the cream to make a lower calorie version of this dish.  Serves 8.
Weeknight Broccoli Pasta
16 ounces small shell pasta
4 broccoli crowns, cut-up
1 cup heavy whipping cream
2 cups shredded Parmesan cheese
1/2 teaspoon garlic salt
1/2 teaspoon salt (or to taste)
Bring salted water to a rapid boil in a heavy duty stock pot.  Cut the broccoli crowns into 1-2 inch pieces.  Add the pasta to the boiling water.  When the water returns to a rapid boil dip a metal colander into the boiling water.  Place the broccoli in the colander and blanch for one minute.  Drain immediately.  Continue to cook the pasta.  Remove the pot from the stove and drain just before the pasta is cooked al dente. Pour the pasta over the broccoli.  After draining put the pasta and broccoli back into the warm pot.  Add the cream, Parmesan cheese, garlic salt and salt.  Stir gently.  Use kitchen scissors to slice the broccoli.  Ideally, the broccoli is cut to the same size as the pasta.  Serve immediately.
I make the full recipe of this is to be a "one-dish" meal and half the recipe if I am preparing meat to go with the pasta.
Continue reading for more detailed instructions Continue reading »