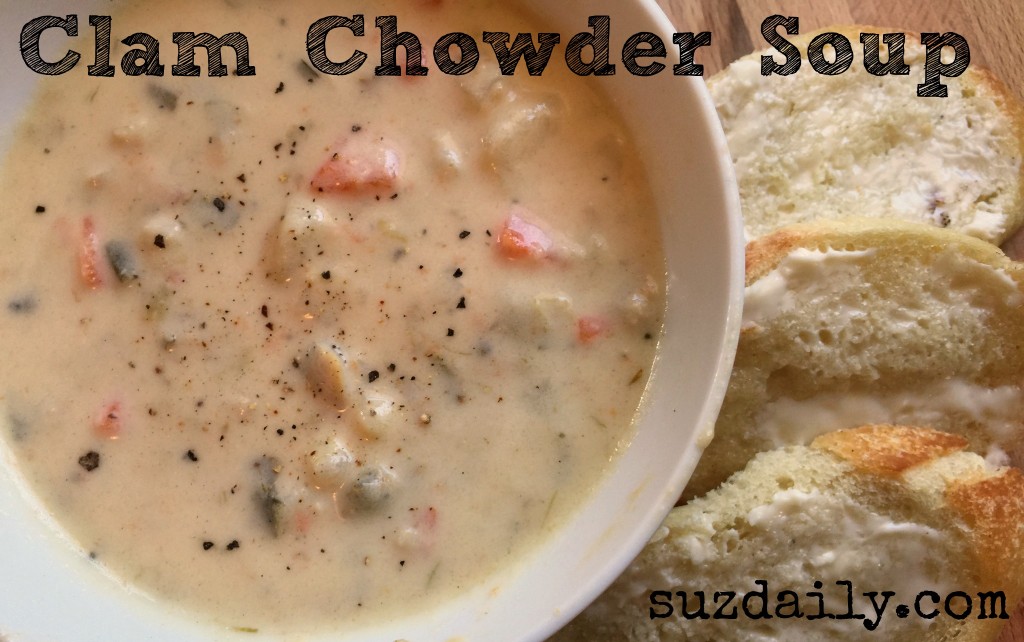 It's finally cool outside!  Time for soup.  I'm determined to try new recipes.  If this image looks familiar, it actually is… this is actually the same recipe used for creamy potato soup with the addition of cream and canned clams.  I made the potato soup a few days ago and realized it tasted like a rich New England clam chowder – minus the clams.  I mentioned this to my Dad and he said, "Yes!  Add the clams!"  So with extra cream and two cans of baby clams I had one of my favorite soups ever!
Creamy Clam Chowder Soup
1 ½ cups sliced green onions
2 Tablespoons olive oil
¼ cup water
5 cups cubed potatoes
¾ cups chopped celery
1 1/3 cups cubed carrots
1 teaspoon salt
2 cups water
¼ cup butter
¼ cup flour
¼ teaspoon pepper
1 teaspoon salt
1 teaspoon garlic salt (optional)
1 teaspoon Italian seasoning
3 cups milk
1.5 cups heavy cream
2 cubes chicken bouillon
2 ten ounce cans whole baby clams, drained and chopped if necessary
Saute green onions in olive oil plus ¼ cup water in a large pot until tender.  Add potatoes, celery, carrots, 1 tsp. salt, and 2 cups water.  Cover and simmer for 20 to 25 minutes or until vegetables are tender.
Meanwhile melt butter in a medium saucepan.  Add flour, pepper, and 1 tsp. salt.  Cook until smooth and bubbly.  Gradually add milk, cream and bouillon.  Cook and stir until mixture thickens.  Stir into vegetables.  Drain baby clams and chop if the pieces are very large.  Simmer, stirring occasionally, until heated through.  Season with garlic salt, Italian seasoning and additional salt and pepper if desired.